This month we are celebrating the job shadowing initiative iShadow turning one and as part of that we would like to take a look back at how iShadow started and what has made the programme successful.
Where did it all begin
Colleagues participating on the Civil Service Local North East, Yorkshire and the Humber Academy realised that there was no easily accessible, cross departmental job shadowing opportunities available to them. Working together they developed iShadow to enable Civil Servants to job shadow colleagues in departments other than their own. Andrew Crichton from DWP was part of the Academy family involved in designing iShadow.
Our family were amazed at how many government departments and different roles were represented in our region, and how difficult it was to connect with people across departments. We had been given the chance to network by being on the Academy, and we wanted to give as many colleagues as possible the same opportunity.

We set up the project with the hope that it would help as many colleagues as possible, but we could not have dreamed that iShadow would have been as successful as it has been. The project is now in to its second full year and we could not be prouder of what we have achieved for our colleagues.

Who has been involved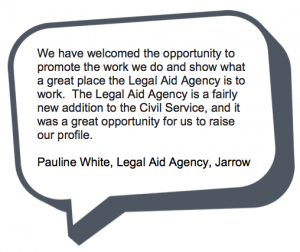 iShadow has been supported by colleagues across a range of civil service departments and they have given up their time to host a colleague from a department other than their own. This has facilitated the sharing of skills and best practice and also provided the opportunity for host departments to showcase their work.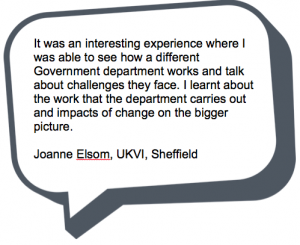 The programme has enabled participants to take part in a positive and engaging job shadowing opportunity, allowing them to build a network across a wide range of departments, as well as supporting skill and personal development. iShadow feedback has been very positive with many noting that the programme has allowed them to experience the wider Civil Service.
To date we have been able to provide over 50 job shadowing opportunities across 8 different Civil Service departments and agencies and we would like to thank all hosts and participants of iShadow for supporting the initiative.
If you would like to find out how you can take part in job shadowing or host a colleague, please contact Kelly Roush.