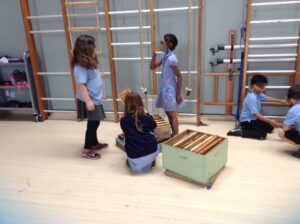 Jane Bennett and Garry Packer from Highways England recently went into a Bristol primary school to run a series of activities around insect pollinators.  Pollinators are important for farming and the UK economy significantly improving crop yields.
A short talk and video about bees (did you know there are about 270 different species of bee in the UK), some honey tasting, candle making, dressing up in a bee suit, a look in an empty hive and then a look at some live bees in a display hive.  If you want to find out more and watch the video about honeybees, please click here.
Going into schools as a public or civil servant doesn't just have to be about work, but the opportunity to be a role model and allow students to explore the world outside school and experience something new. They might not be remembered by the students as engineers at Highways England,  but they will be building on this link with the attendance of a traffic officer vehicle at their careers fair later in the year.
You may want to consider other creative ways you could take part in volunteering, which still fits with your departmental volunteering policies.....