Would you like to volunteer your time to support the Help for Heroes charity?  Every day 7 people will be medically discharged from the Armed Forces.  Help for Heroes are there to help them at this time of tremendous change and to support them in this new phase of their lives.
Help for Heroes has been granted a Flag Day to collect donations at a number of London Underground stations (and a few Network Rail over ground stations) on Thursday 21st June. They are seeking volunteers to sign up to help on the day and ensure that they have the widest possible coverage.  The day will also feature live entertainment and celebrity appearances.
The collection will be taking place all day between 0700-1900hrs, and volunteers are welcomed for all time periods within this, but are particularly needed during the two commuting periods of 0700-0900hrs and also 1700-1900hrs.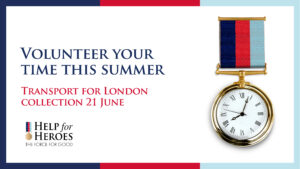 To sign up, please visit the Help for Heroes volunteering registration page
If you would like more information, you can call the Campaign Team on 0300 303 9888
When you call or email to register your interest, it would be most appreciated if you can indicate the time and location that would be best for you.  And finally, upon registering, please can you complete 'How you heard' box with the words 'Civil Service Local' so that we can track overall numbers of volunteers.