Are you looking for the opportunity to think differently about your position as a middle manager and how to cope with the impact of change? Would you like to work as part of a cross-departmental team and develop the skills needed to meet the challenges of the 21st century?
The Middle Manager Academy (MMA) North 2018 will be taking place in Huddersfield this autumn and could be the opportunity for you.
What is the Middle Manager Academy North?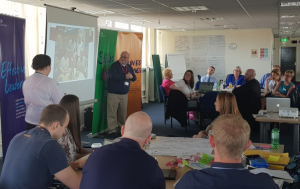 The MMA North is a unique cross-departmental development opportunity that has been designed to equip HEOs and SEOs (or equivalent grades) with the personal, professional and collective leadership skills needed to meet the​ current and future demands of the Civil Service. The academy aims to foster a more resilient and collaborative leadership culture amongst civil servants from departments across the North West, North East and Yorkshire and the Humber. The MMA North will provide you with the opportunity to support Civil Service transformation, whilst embedding and enhancing your skills. It will also encourage you to inspire others to become the leaders of the future.
The MMA North 2018 will start with four learning and development days and there will be a mix of self-awareness, personal development and ideas production across the event with a number of keynote speakers and panellists. Over the following 12 month period, you will collaborate in cross-departmental teams to tackle challenging business issues that departments and agencies in the North are currently facing. 
How can I get involved?
Departments and agencies have been allocated places based on their proportional representation in the North West or North East and Yorkshire and the Humber region.
Departments are responsible for deciding how their places are filled. If you are interested in this opportunity, please look out for communications within your organisation or speak to your line manager.