Since publishing our wellbeing toolkit, 'A to Z to Better Wellbeing' (AZ2BW), in July we have received several invites to present our toolkit, one of which was from HMP/YOI Norwich.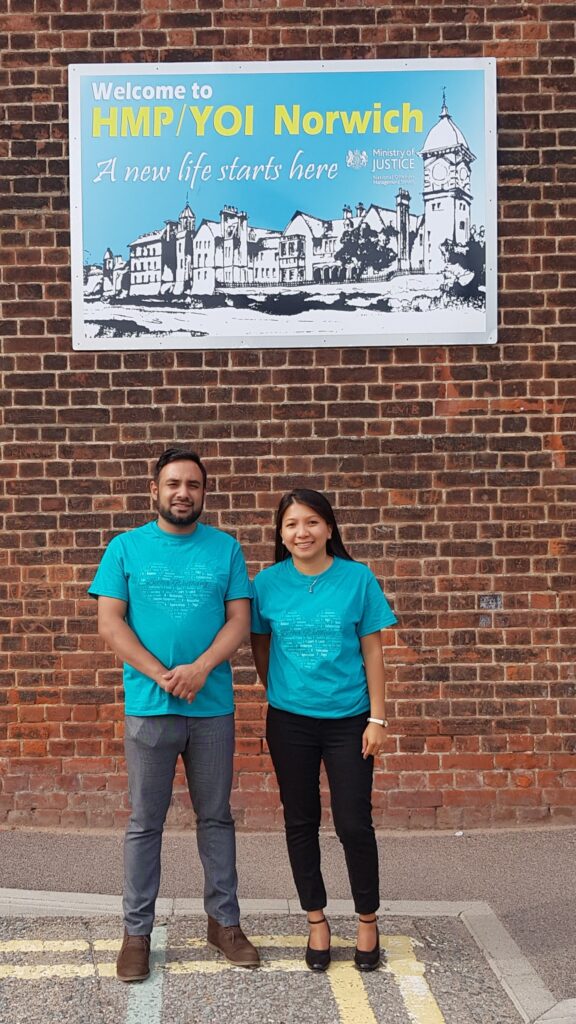 Gail Peck, our team lead, (pictured with Koysar Hamid) leapt at the opportunity as her husband served as a prison officer for 7 years and she has some understanding of the working environment. The rest of the team supported the idea believing we could help make a difference and saw it as a great opportunity to spread the word. This, with the offer of a tour of the prison, who could refuse?
We travelled to Norwich in August. Not having visited Norwich before we were delighted to catch a glimpse of the beautiful town centre.
Arriving at the prison we were in awe of the dramatic and imposing structure. A vast building with 20ft high, thick walls and gates that look like they could stop a tank. All designed to keep the prisoners in and the rest of the world out.
Then it was time to go in… security like we hadn't previously experienced. Our laptops had been authorised prior to the visit by the security governor, letters of authorisation had to be presented and checked. Id's checked, mobile's handed in and secured in lockers, as they are not allowed, and a form to be signed confirming we were not carrying any of the listed prohibited items. If we had been found carrying any of the items in the Prison we would have been liable to arrest and prosecution. Not a normal trip to the office!
We had the tour of the prison on arrival, whilst the prisoners were all having lunch. Norwich prison is massive. It houses 800 inmates from category B - D. Cat. D being 'Those who can be reasonably trusted not to try to escape, and are given the privilege of an open prison'. Cat. B being 'Those who do not require maximum security, but for whom escape still needs to be made very difficult.' We were shown several of the wings and the inside of an empty cell, along with part of the building that's no longer in use but can't be knocked down as the chimney's Grade II listed. Lots of history in there. It is a completely different world!
We presented the toolkit to a group of prison officers and admin staff. They were receptive, engaged and took part, including doing 'the Funky Chicken' (a desk exercise)! It was acknowledged that they have a very different work environment to most civil servants. The toolkit was a conversation starter and it was agreed that whatever job we do, we need to look after our own and each other's wellbeing, inside and outside the workplace. We can start small, or like the group called it "baby steps" to better wellbeing.
Overall, it was a very good event. To all our colleagues, look after yourself and your colleagues too!
AZ2BW is an interactive tool that's accessible across the Civil Service. There are 26 wellbeing topics, from A-Z, featuring activities that you and your team can try along with links to CS Learning and resources that can be accessed in one simple click. If you haven't seen it take a look at the A-Z to Better Wellbeing toolkit accessible version 2019 now.