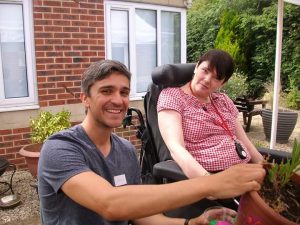 Defence Equipment and Support is part of the Ministry of Defence and their Project Professional Graduates and Apprentices have just come to the end of a 4-month long Corporate and Social Responsibility initiative. As part of this they took part in volunteering placements with Bristol's Leonard Cheshire Disability Care Home at Cossham Gardens. Leonard Cheshire is an organisation that supports individuals to live, learn and work as independently as they choose, whatever their ability.
Their days at Cossham Gardens included a talk introducing them to the organisation; a brief on the social model of disability; the lifestyle of the residents and staff; a coffee and craft morning where they would chat with the residents; a game of boccia in the afternoon (it is great – look it up!) and ending with seasonal activities.
The volunteers left their day having been challenged on various levels. Moreover, the day allowed the volunteers to understand that a little bit of time given can be extremely valuable and meaningful to the residents. It allowed the volunteers to develop a better understanding of unconscious bias, issues surrounding accessibility, and what people can do to improve the quality of life for disabled citizens whether that be in the local community, or in work.
Over 95% of the volunteers said that they would recommend this opportunity. They described it as eye-opening, as a great opportunity to give back, and found it genuinely rewarding to see how much the staff and residents at Cossham Gardens valued their time.
What's Next? 
Leonard Cheshire Disability Care Home are looking for more volunteers to help with the amazing work they do. If you are interested, please contact michele.wareham@leonardcheshire.org for more information. They welcome volunteers from other government departments, but please ensure you check your departmental volunteering policy and speak to your line manager.
If you are interested in other volunteering opportunities with colleagues from different departments in the South West or Wales and have ideas on organisations that need support, please do get in touch.
For South Wales/Bristol/Gloucester/Wiltshire area – Andrew Hyde
For Mid and North Wales – Edel Moroney
For Somerset/Dorset/Devon/Cornwall – Nicholas Frampton