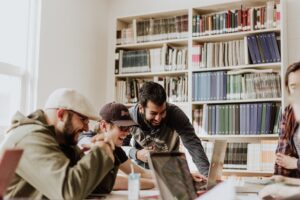 We're looking for volunteers to support an exciting new community initiative in Exeter. Residents at YMCA Exeter will be running a pop-up shop and café in Exeter city centre this Christmas. Ahead of their big opening we'll be running a workshop around financial planning and awareness.
The workshop will help YMCA residents to gain valuable financial skills around setting prices, setting targets and personal budgeting. This will be an important step in preparing the YMCA for the opening of their pop-up shop in December and learning how to run an enterprise.
All workshop materials will be provided. We're looking for enthusiastic volunteers to talk to a small group of young people about financial decision-making and support them through the workshop exercises. You don't need any specific financial expertise – we'll be dealing with simple price setting and goal exercises…but if you do happen to have experience in this area we'd love to have you on board!
Details of the event
When: 26th November 2018
Where: YMCA, 39/41 St. David's Hill, Exeter, EX4 4DA

Time: 10 till 12
Please note that you will need to seek approval from your line manager and any travel and subsistence costs must be met by your department.
To volunteer for this event or for more information, please email Nick
Civil Service Local are committed to ensuring that wherever possible our events are accessible to all participants. If you have any specific requirements that will enable you to fully participate, please let us know and we will endeavour to make any reasonable adjustments.
The Christmas pop-up shop is a continuation of a successful community café project run earlier in the year. YMCA Exeter has released a video of residents talking about the impact of taking part in initiatives like the community café.