Sharon Colling from HMRC recently supported the Northumberland Education Business Partnership (EBP) as a Business Ambassador. Sharon has shared with us her experience and how she got involved with the 'My Teacher is a Vampire' workshop.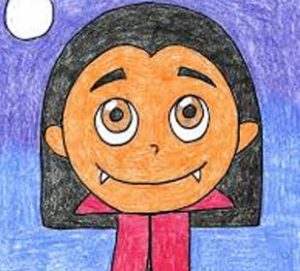 In a dark, creepy classroom, 30 schoolchildren sat listening to me read the spooky opening chapter of an unfinished book called, 'My teacher is a vampire'. My part in this spooky escapade came from volunteering with the Northumberland EBP as a Business Ambassador.
The children's project was to finish the book. I was amazed by the students' literacy skills. They came up with incredible "wow" words to use in their stories. You can imagine the levels of chatter and noise as the competition grew fierce.
This simple, fun activity helped the children develop a range of important life skills, including team building, time management and literacy. The children loved working with civil servants. One team even included a special tax barcode on the back of their books that could be scanned to help with school funds!
The Business Ambassador Programme is a great opportunity to represent the Civil Service in a wide range of activities that help young people understand the world of work and future employment. It also counts towards your continuous professional development – which is always a bonus.
If you would like to find out more or become a Business Ambassador, please contact Kelly Roush.