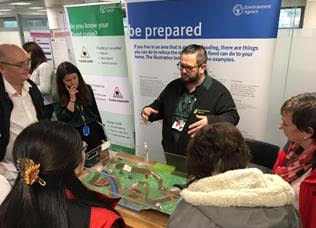 Our colleagues in the Civil Service got the chance to learn more about the work of the Environment Agency. Four discovering the Environment Agency sessions were held at Foss House in collaboration with CS Local.
The aim of the event was to raise awareness of the Environment Agency's operational role in both regulation and incident management with our Defra and wider government department colleagues and to showcase the new incident room.
The sessions also helped build stronger relationships with our Civil Service colleagues working in Foss and Mallard House and across government departments further afield.
Mark Scott, Yorkshire Area Executive Director welcomed those attending each session. This was followed by a duty officer video, a guided tour of the York Area incident room and interactive market stalls showcasing our operational role across the business. This included Groundwater, Analysis and Reporting, Installations, Hydrology; Flood Resilience and York Flood Alleviation Scheme.
More than 65 people attended the sessions, with some very positive feedback received, including: "Such a fascinating insight into your work."
All those who attended left with a much better understanding of our operational role in regulation and incident response, which will help us work better together in the future.
If you would like to work with CS Local to showcase the work of your business area or department, please contact Anne Hunter.