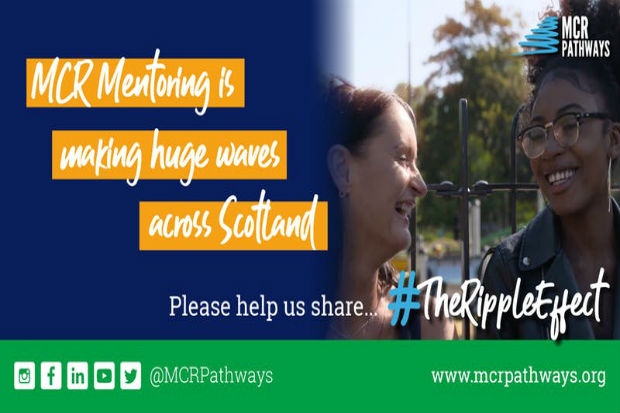 Be Part of #TheRippleEffect
All across Scotland, there are young people who feel like no one is listening. Home might be chaotic and school can be a constant battle. Care-experienced and disadvantaged young people in our community face these challenges. But mentors make all the difference.
That positive relationship and commitment to be there for someone, one hour a week, can change everything. Our schools see the impact, communities feel a change and organisations see the difference in the next generation.
More about MCR
MCR Pathways supports care-experienced and disadvantaged young people to help them realise their full potential. The programme includes mentoring, group work and Talent Tasters, an introduction to career sessions. MCR Pathways is embedded in all Glasgow secondaries and expanding into other local authorities including Aberdeenshire and Aberdeen, West Dunbartonshire, Edinburgh, North Ayrshire, and South Lanarkshire.
You are invited to join MCR Pathways for a special event on 7 February at Glasgow Science Centre, from 6pm, to find out more and join #TheRippleEffect.
Hosted by MCR's young people, at the event you will:
Meet Inspiring Mentors - including Glasgow City Council CEO Annemarie O'Donnell and Radio Clyde Travel host Amber Livingstone
Hear from MCR's inspiring Founder Iain MacRitchie on our vision for the future
Complete the first step of the mentor journey should you decide to sign up
Register on Eventbrite to find out more and why not extend the invitation to a friend or colleague?
Visit mcrpathways.org to find out more and join #TheRippleEffect