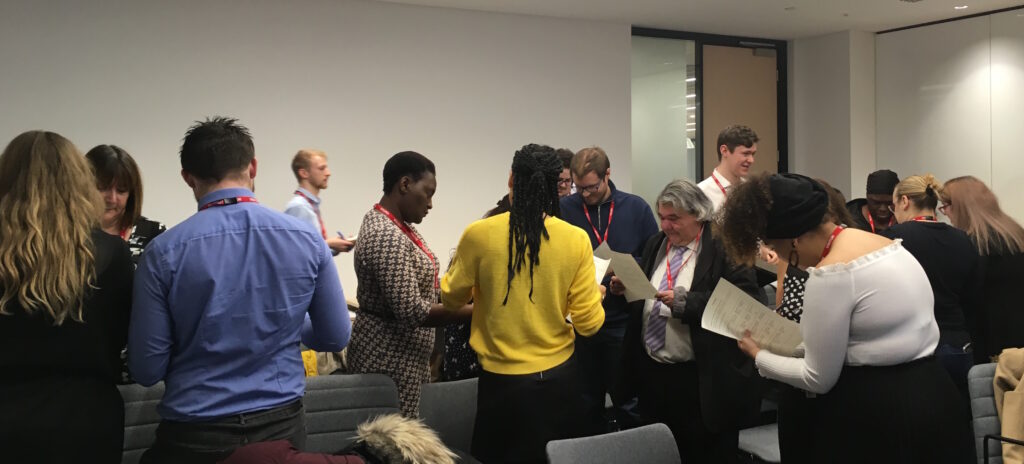 The Junior Leaders Networking Event (JLNE) brings together AA to EO grades from across government to hear from inspirational speakers, get ideas to help them fulfil their potential and supports our vision of a Brilliant Civil Service.
Funke Oham first joined other civil servants at a JLNE in September 2017 in Portsmouth and tells us what difference it made to her.
At the end of this fast-paced networking event, I felt challenged and left with the intent to finally give the HR Fast Stream programme a go. Despite not getting through the assessment centre I did step out of my comfort zone, face my fear and received feedback from the head of the Fast Stream. Out of the process came a job offer through the Direct Appointment Scheme.
When I later saw the advert for a JLNE lead last year I immediately applied, wanting to help others fulfil their potential, organise inspirational events and connect with colleagues from across the Civil Service. I got the role.
I started planning my first event and found the biggest hurdle was securing a room for the event! With help from a colleague I did find a room in Canary Wharf.
Making use of other contacts I put together the agenda and advertised the event. We sold out in a matter of hours with a long waiting list of disappointed people. Rethinking things and by rejigging the room layout I was able to double the number of attendees.
We started off playing people bingo with colleagues from 15 departments across the Civil Service talking and finding out more about each other. There was a great buzz in the room. Our first guest speaker, Meena Bhati, Head of Ethnic Diversity Strategy and Engagement in the Cabinet Office, shared tips on identifying and removing barriers to career progression along with her story from being a EO to joining the Fast Stream and securing a Grade 6 post all within four years.
Attendees then had a choice of break out session: 'How I developed my career,' 'Raising your profile' or 'Building digital skills,' led by colleagues from the Home Office (Ounie Christianson), HMRC (Caroline Olaiya & Sandra Hutchinson) and the Ministry of Defence (Michael Lewis).
Our keynote speaker, Wendy Eley, Director for Strategic Development at CSSC Sports and Leisure also shared her career story of when she started out in a post room to becoming a SCS in the MOD highlighting the benefits of mentoring and coaching.
Finally, I wrapped up the session encouraging attendees to be 'hopeful.' and believe that 'they have what it takes to make it happen'.
So far organising my first cross-government event has provided me with the opportunity to develop my skills, build relationships with Civil Service Local stakeholders and utilise creative problem-solving skills.
Colleagues who attended said:
"This event was excellent, interactive and informative. I really enjoyed it, all the speakers were very inspirational. An event that all should attend if you are looking for career progression." Deepa
"Highly inspirational and engaging for all who attended. Every person in the room was able to participate. The breakout session I attended was 'Raising Your Profile.' I learnt about the power of networking; for every six people you meet and sharing our knowledge could lead you to your next job." Hugh
"The message I got from the overall event is not to give up and to develop your potential." Dionne
Can you support us by hosting a JLNE in your office (preferably outside London)? Then please email Funke.
If you want to learn more, become more and achieve more, look out for details of our next JLNE on 21 June in Croydon.