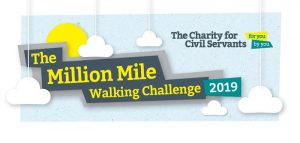 Want to put a spring in your step? We know that physical activity is beneficial to your mental health and wellbeing and we also know that having a community behind you makes life easier. So this year we're asking you to come together with your colleagues and help us walk a million miles in 50 days!
Registration opens today and walking begins on 13 May for just 50 days. It's a great opportunity to improve your wellbeing, your health and your fitness – without too much stress! – whilst fundraising for your community at the same time.
If you'd like to raise money via sponsorship, it all goes to helping colleagues like Paula, who turned to the Charity for help in her time of need.
"Terrible things happen in life which are beyond our control. You never know when you might need help."
By joining the Challenge you can help make a real difference to countless people in need, and get fit at the same time!
The dedicated website is there for you to enter your steps, aiming for 10,000 a day, and we'll be able to see which teams and which government departments are in the lead!
Get your team together and register today!