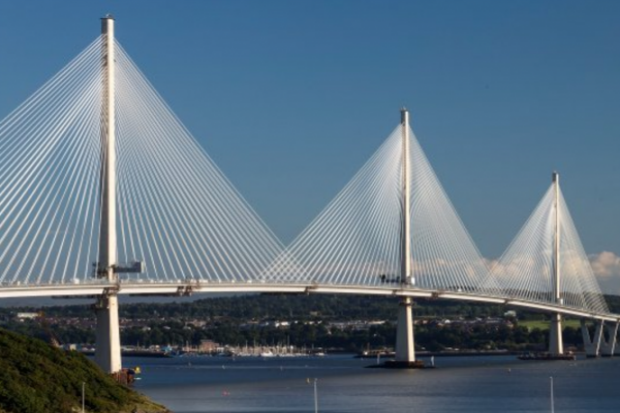 CS Local Scotland are supporting our Scottish Government colleagues in promoting Inter Faith week  which was 10 to 17 November. Scotland are proud of our bridges, just look at the lovely new Queensferry Crossing.  Are we as equally proud of our metaphorical bridges, those we build between ourselves as individuals and groups, with all our idiosyncrasies and  differences?
Frank Strang, Faith and Belief champion and Deputy Director for the Directorate of External Affairs in Scottish Government says:
"Looking at the world we live in, I can't help thinking that such bridge-building has never been needed more. The theme of Inter Faith week this year is bridge building, thinking in particular about bridges between faith traditions and between people of faith and others. 
Now an important thing for me is that our faith traditions stand proudly on their own. I like mash-ups but, along with many other people I can't stand faith mash-ups!  After all, we are celebrating glorious diversity. 
But it is important to reflect on what our faith traditions have in common - on the bridges between them.   So I asked some unsuspecting Scottish Government (SG) colleagues for a few thoughts on what was important to them in their tradition. Here's what I heard: 
What people see as the core values underpinning their faith tradition. 
Several spoke of family and community. From a Jewish perspective, Rowan Hendry-Hume spoke of treasuring family and friends and treating other people and the world kindly. Cameron Farrell from the Church of Jesus Christ of Latter Day Saints singled out family, community, and respect for all peoples and Laura Worku and Anncris Roberts from a Christian point of view identified love as the underpinning value,  leading to a sense of connectedness to all people and the world around us.
Another core value was fairness and justice, with Jeanette Hagerstrom talking of having personal responsibility to help "rescue the world"; Laura of social, economic and environmental justice; and several of the core value of loving your neighbour. 
We then explored what practices in people's traditions contribute to their wellbeing.
Cameron stressed the value of viewing our bodies as gifts from God, and hence working hard to live healthy lives, while Anncris spoke of the importance of knowing she is loved by God and others.  In terms of practices, Jeanette mentioned Shabbat, 'taking time out' and several others alluded to retreats, prayer and meditation – valuable both alone and with the support of others. There were several references to service, which "takes the focus away from yourself" and to rituals, such as the Diwali celebration of good over evil.
And, with great wisdom Nanjika Nasiiro recommends taking the time to be thankful each day.  "Whenever I feel down or overwhelmed, it helps my wellbeing to focus on three things that I am thankful for." 
If none of the others take your fancy, do give that one a go!
Frank would like to invite you along to:
Food Standards Scotland

4th Floor, Pilgrim House, Old Ford Road, Aberdeen, AB11 5RL

When - Monday 2 December 2019

Time - 12:00  to 13:00

Please book your places here using Eventbrite
Where there will be opportunities for you to explore some of this further, for example by joining the Faith and Belief Network, if you want to know more about joining please contact Frank Strang.