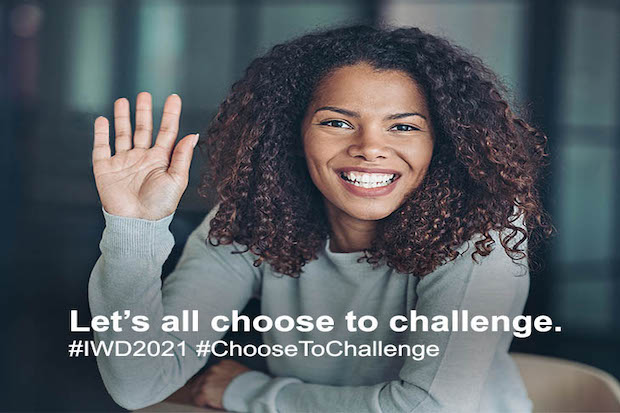 We are pleased to be able to offer a series of online events to all UK Civil Servants in celebration of International Women's Day (IWD). This important day is a global event held annually on the 8th March which celebrates the social, economic, cultural and political achievements of women. The theme for this year is #Choose to Challenge and you can find out more on the IWD website https://www.internationalwomensday.com/theme. 
This year IWD has 6 missions:
to celebrate the work of women creatives

to celebrate digital advancement and champion the women who are forging innovation through technology

to celebrate women athletes

to assist women to be in a position of power to make informed decisions about their health

to

forge inclusive work cultures where women's careers thrive and achievements are celebrated




to shine a spotlight on activity encouraging and uplifting women to pursue goals without bias or barriers
We will be hosting sessions throughout the week commencing 8
th
March, to allow flexibility for delegates.
These informative sessions are an opportunity to hear from colleagues across the grades, from different backgrounds and departments, to share what International Women's Day means to them. What does it mean to you? Get involved in our CS Local pledge this year, 'to
reconnect, stay connected and make new connections' so join us to find out more how you can make a difference 
Want to sign up?
Please check with your line manager and ensure that you use a work email address to register on Eventbrite. We will be using YouTube to stream most of the sessions and we will send you details in advance of  the event. You may use a work or personal device to join the sessions. 
Dates, times and booking links 
Monday 8 March 2021
11am to midday - Inclusive workplaces - t
his session will be led by the Senior Sponsor of a cross departmental women's network and will cover micro aggressions, gender bias, stereotyping and imposter syndrome. Book a place
here
12:30pm to 1:30pm - Women's network panel session - this panel discussion will include representatives from the South West and Wales Women's network (but is open to all areas) and the overarching topics for the discussion will be empowerment, confidence and imposter syndrome. Book a place here
2pm to 3pm - Working Families Network - Companies House Working Families Network will lead this session on home schooling, women's mental load and work/life balance during the pandemic. Book a place here
3:30pm to 4pm - Director General National Crime Agency - learn about national security careers and the varied work within  law enforcement. Book a place here
Tuesday 9 March 2021
10:30am to 11:30am - Digital careers - this session will be led by a Deputy Director in the DWP Digital Hub in Newcastle who will talk about her personal journey into a digital career.  It will introduce the breadth of digital roles and some of the big achievements in making digital services accessible to citizens. Book a place here
11:30am to 12:30pm - Women in digital roles - the Director of Digital at Companies House along with a colleague from the DDAT profession (Digital Data and Technology) will talk about how they are encouraging and empowering women to apply for digital roles. Book a place here
1pm to 3:45pm - Domestic abuse, women's empowerment and overcoming adversity - From 1pm to 2pm Just Right's Scotland will give an insight into the types of domestic abuse, how to recognise the signs, legislation and support available.  Following this session from 2pm to 3:45pm, colleagues from the Northern Ireland Office (NIO) Women's network will share how events have helped to empower their members. The Permanent Secretary of the NIO will then discuss her leadership journey and offer some reflections on empowerment. To finish off there will be a live interview with the Deputy Director of HMPO and a senior leader from HMRC, who will share their experience and advice for women in leadership roles. Book a place here
Wednesday 10 March 2021
11am to midday - Inclusive workplaces - the Home Office Gender Equality Network will present a session on inclusive workplaces. They will look at the statistics of women employed in the civil service, impacts in terms of working patterns, caring responsibilities and the current and future impacts of Covid - 19. Book a place here
Midday to 1pm - In conversation with Stella Dadzie - the Gender Equality Group and Cabinet Office Race Equality Network are joining forces to bring together a Q&A event. Stella is a founder member of the Organisation for Women of Asian and African Descent, and is best known for co-authoring The Heart of the Race: Black Women's Lives in Britain, which won the 1985 Martin Luther King Award for Literature. We will be discussing Stella's personal experiences of growing up and navigating Britain as a young black woman, as well as her work and the intersection between gender and race. Book a place here
1pm to 3pm - Race to the top - we will be hosting an event in conjunction with grade 6/7 Race to the Top Network, looking at the intersectionality between race and gender by focusing on BAME women in the Civil Service. Book a place here 
Thursday 11 March 2021
9:30am to 10:20am - Police Chief Constable - The Chief Constable of Gwent Police will speak about her role in policing and how she has pursued her goals in her career and supported others to make a difference. Book a place here
10:30am to 11:15am - Cancer care - this session will be led by a nurse from the Tenovus support line, who will talk about the incidence of cancer, signs and symptoms, screening, healthy lifestyle and sun safety. Book a place here 
Midday to 13:00pm - Work/life balance in a senior leadership role - hear from DVSA's Corporate Services Director, who will share her experience of part-time working and maintaining work/life balance in a senior leadership role. Book a place here 
1pm to 2pm - PTSD and health anxiety disorder - this session will be led by a Home Office Mental Health First Aid lead who will share her personal story and how her experiences led her to her current role. Book a place here 
Friday 12 March 2021
10am to 10:30am - The role of a magistrate - Fiona from CS Local will talk about juggling her life, career and the magistracy, how to forge a career despite setbacks and the role of a magistrate. Book a place here 
11am to midday - Wales Future Generations Commissioner - The Wales Future Generations Commissioner will speak about her role and how she has been able to influence change in the workplace. Book a place here 
1pm to 2pm - Working in Border Force- hear from Kerry about what life is like as a woman working in a busy airport and how she has to adapt to meet the demands of a fast paced environment. Book a place here 
If you have any questions please email the team