We have been talking to Annette Hooper from the Charity for Civil Servants. Over the past couple of years we have been encouraging people to volunteer for the charity and you can read more about the roles needed on their web pages. It's a very good way of using your volunteering days and remember to say that you heard about them from Civil Service Local.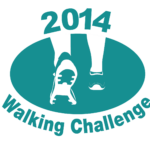 Each year the Charity organises a Walking Challenge fund raising event and Annette has been sharing with us about how every civil servant can get involved, simply and easily, by doing what most of us do every day - move around.
So the message is that the Walking Challenge is back! Whether you want to lift your mood, shape up for summer, get more fresh air or even compete against your colleagues, it's all possible if you accept the challenge to walk 10,000 steps a day for 50 days.
The Charity for Civil Servants' 2014 WalkingChallenge runs from 19 May to 7 July – it's the perfect way to support their work and walk your way to a new, healthier you at the same time!

An example of someone who the charity has helped is Dawn, who was recovering from breast cancer and struggling through a cold winter with no heating or hot water when she turned to the Charity for help. By joining the Challenge you can help make a real difference to people like Dawn.