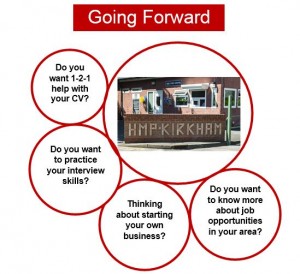 Our Going Forward programme uses the skills of ordinary civil servants to support offenders in our local prisons.  It proved to be very successful in prisons across the north west of England last year. Now, a new team of people from different departments is ready to take up the challenge and step out of their comfort zones and into a new environment.
The team will work with a group of offenders at Her Majesty's Prison Thorn Cross in Cheshire to help them develop new skills and prepare for the world of work after completing their sentences.  Our volunteers will design and deliver sessions which will focus on presentation skills and communication, behaviour in the work place, how to write a CV, job interview techniques and managing money and a household budget.
The sessions will begin this week on Wednesday 4 February and run for the next 6 weeks. The team went to visit the prison for the very first time last week, giving them a chance to find out some more about what it's like behind the gate.
Kathie Bates, our Local Co-ordinator in the north west, attended the orientation day and says:
It's great to see the Civil Service Local Going Forward project growing from strength to strength and we were delighted to be invited to Thorn Cross. We got a very warm welcome at our orientation event from the Govenor, Pia Sinha, all the staff and the offenders. Our new team is raring to go, safe in the knowledge that the work they will be doing will make a huge difference to offenders, many of whom haven't had the best start in life and are desperate to make different choices going forward.
Check back with us in April to read the latest news about the team's experiences.  We had a very positive response to Kelly Farrell's recent blog, so if you're interested in finding out more or getting involved with the Going Forward project in 2015, please get in touch.