My colleagues at the Exchange to Change team did some market research at last year's Civil Service Live where people told us they were keen to change roles (either on level transfer or on promotion), but needed support to draft effective competencies. We decided to organise a Competency Writing Snapshot Session to support civil servants across the north west who were in a similar position.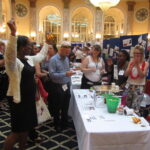 Two experienced sifters - Jo Osborne and Cathy Webster – both from HM Revenue and Customs, worked with us design the content and agreed to deliver the session.
We had 20 places on offer but the session proved very popular with around 200 expressions of interest submitted. The participants were a mix of grades from a wide range of departments. The session was a huge success and here's what some of the attendees had to say:
I really took a lot from the session and it has given me a boost to really focus on my competencies again
Belinda Sadler – Department for Work and Pensions
The course was invaluable in providing insight and practical tips from a sifter's perspective, which created a more complete picture of the requirements of the application process. Practical elements of the training involved reviewing real examples of applications and applying the course learning to re-drafting the different competencies provided…Really informative and highly recommended.
Amy Allen – Department for Education
I found this session very informative and interesting. There was a good mix of theory and practical. The mix of people from all different departments made for a good variety of experience which only added to the session
Amanda Shaw - Land Registry
I'm pleased to say that the team and I will be running more of these sessions in future. In the meantime, if you want to see what else we have on offer, please get in touch.