The first Yorkshire and Humber Continuous Improvement networking meeting of 2016, saw us meet on 22 March, at the British Library, at Boston Spa, Wetherby, our hosts for the day being Hilary Hallas and Graeme Bentley.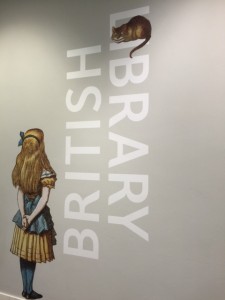 Hilary started the day with a presentation about the history of the British Library, how they have used Continuous Improvement (CI) and how the organisation has had to adapt and diversify in this digital age. We were all pleased to hear, that despite the huge demand for online material, the general consensus was that paper books are still here to stay!
Graeme gave us an overview of what the process used to be to transport books between their sites in Boston Spa and St Pancras, London. This involved many different steps and multiple opportunities where books could be damaged, not to mention the disappearance of crates being used for other things! They now have a system in place, where books are loaded directly on to a trolley (custom made by a local business), that can be moved and loaded directly on to the lorry for transportation to St Pancras, without the loading and unloading of books at various stages. The process now in place, is efficient, cost effective and has been so successful that the trolley system has been rolled out by other departments at the Library. I'm sure we can all think of  processes that CI can make better.
Hilary and Graeme then took us on a tour of some of the various departments at the Library, including a visit to the Additional Storage Building. This was a huge storage building, we were able to go on to a viewing platform, where you could see rows and rows of racking, as high and as far as you could see. Moving between these rows was a crane (robot) that moved along at 30mph, collecting crates and delivering them to a conveyor through to the back office staff. It was fascinating to watch, and hard to imagine how long this would take by hand.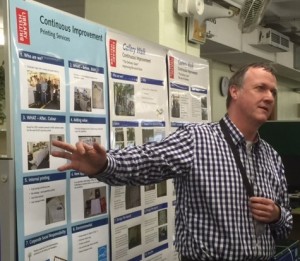 We were then shown various storyboards of different CI projects from across the Library, these visually showed the story of the project from how they started the project, the steps involved (current process, what they found, potential new process, data gathering, action plan) right through to the outcomes. You got a real flavour of the project, what was involved and how proud the staff were of their successes.
Back to the meeting room, David Waldock (Certified Scrum Master) gave us a brief introduction to Agile. This was a tool that I hadn't come across before, Agile was originally intended for IT development, but there are some that use it in a non-IT environment. Some of the language seemed very strange, with Scrums, Scrum Ceremonies, Sprints and no Lycra in sight!
As always with these events, we ran out of time, but an enjoyable and very informative day was had by all. Many thanks to Hilary, Graeme and the British Library for hosting.
If you would like to join this network or find out more about other CS Local networks please contact Anne Hunter