On arriving at a mid-year review event, I wondered if the delegates were still asking themselves the questions many had asked on the first day of the Academy. Questions such as: 'Why am I here?', 'Why have I been placed with a group of strangers named after an animal?', 'What am I doing?' and 'Who are all these people?' Or had they found answers to those questions?
 Entering the grand conference room of Southport's General Records Office, part of HM Passport Office, it felt like we were walking on to the set of a Sunday night period drama. The TV theme was appropriate, as the delegates – grouped into families with animal names - used a TV quiz show theme to give lively presentations updating us all about the progress of their projects.  Knowing 'Blockbusters' would soon feature, all bets were off as to how quickly someone would ask 'Can I have a P, please, Bob?' - and we were not disappointed!
In fact, disappointment was never going to be on the menu, as it was clear that each family had prepared well, and they delivered excellent project updates in keeping with their TV theme. The Wolf family's project is to make a short film to improve the public's perceptions of the Civil Service, and they used the format of 'Deal or no deal' to good effect to chart their progress. Meanwhile, the Bears used 'Name that tune' to explain where they are up to in organising an awards event to sing the praises and celebrate the achievements of north west civil servants.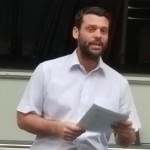 Each family was creative in the presentations they put on. We had costume changes, props, excellent role-playing and some people (and Penguins) who clearly believe they should be treading the boards! Their commitment was personified when Gemma from the Panther family, keen to take part in the event, rang up from a holiday abroad. Having watched all the families give presentations in September and give a great account of themselves, it was nonetheless striking and very rewarding to see how much they had grown in confidence. If something went wrong they simply relaxed, smiled and covered for each other.
Only team working, confidence and self-belief can make that happen, and it was impressive that such belief so clearly sits at the heart of the progress made to date. A room full of people who believe in improving the whole Civil Service is great. However, a room full of people who intend to do that themselves - and not wait for somebody else to do it - is quite something.
Those delegates who arrived at the Academy in September wondering why they were there now clearly know. Not only that - now they also know where they're going and how they'll get there.