One of the things we do in Civil Service Local is facilitate networks which bring together civil servants to encourage more cross-departmental working, to share skills and
experience to maximise existing capabilities. We recognise our diversity and use it as a strength to build a sense of local community where we work together to tackle issues common to our departments and provide access to resources that may otherwise be unavailable to us.
We have several networks across our region including ones for Engagement, Continuous Improvement and Diversity and Inclusion.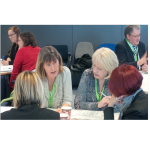 Attendees are usually advocates or have a lead role for the network theme and, through sharing knowledge, news, best practice and current campaigns, they are encouraged to get involved and support each other to find solutions to challenges which face all departments.
Liz King, HMRC shares her experience of a recent Engagement Network:
I recently attended a cross government engagement meeting. One of the sessions was on the What works centre for wellbeing. It gave valuable insight into what our government, communities, employers as well as individuals can do to increase wellbeing as this is directly linked to productivity. It was particularly interesting to find out what can trigger workplace mental health issues, such as continuous change. This is an area that I am familiar with, as an advocate of Continuous Improvement. I now feel equipped to research this topic further with a view to understanding the triggers and increasing wellbeing at work.
To find out more about CS Local networks in the east, south east or London please contact Susan Coles.