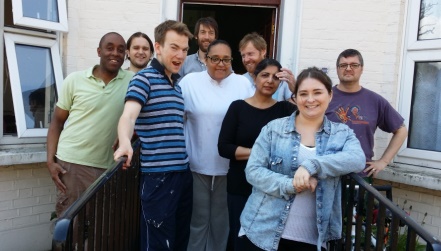 Harnessing the skill and commitment of civil servants can help improve outcomes for people in need, build more capable and connected communities and complement our public services. Read how Jude Burcombe got on with a project for Brandon Trust.
I heard about this volunteering opportunity from two of my Home Office colleagues I line manage, Susan and Navdeep, when they requested special leave for two days to take part. I had been thinking about volunteering for some time, and after I read a bit about the excellent work Brandon Trust do for people with learning disabilities I thought 'now is the time' so I offered my services too.
Our task was to do some decorating in one of the Trust's properties in SW London. I do like a bit of decorating! The large house accommodates up to 5 residents. We were asked to decorate a downstairs living room and an upstairs bedroom and hall. Our fellow volunteers were Michael (Home Office), Ben (ACAS) and Ben, Michael and Ollie (DFID). Our Immigration Enforcement colleague Marie also joined us on the second day. Having two Michaels and two Bens was potentially confusing but we all learned names quickly.
Unfortunately disaster befell us before we began, as whoever delivered a box of paint and equipment for us to use obviously threw it around – a lid had come off a pot of paint and covered everything in the box and even got on the front yard of the house! Poor Susan even got some on her clothes. However, Home Office Michael got organised, and he and a few others went to a DIY store with one of the Brandon staff and bought fresh supplies of magnolia paint, brushes and rollers.   After this delay to operations we all got cracking. The hall was light green, the bedroom a dark ochre colour and the living room already magnolia. We thought the bedroom might be a problem with the time limit we had, but two expertly applied coats and the walls were well covered. Unfortunately we could not do the entire hall as we did not have ladders tall enough.
The staff were very pleasant and accommodating and supplied us with tea, coffee, cold drinks, crisps, chocolate and fruit. They were very grateful for our efforts. We all found the experience rewarding, and I for one will certainly be volunteering again. It is a great way to give something back to the community, and with up to 5 days available per year for all civil servants what is stopping you?
If you have any ideas for or would like to be involved with a volunteering activity get in touch.