I can't believe it was almost 5 years ago that I first heard of Civil Service Local North West (it wasn't called that back then!)  Cheesy but true – time flies when you're having fun!
I consider myself very lucky to have worked in lots of different roles with our team, firstly working one day a week on strategy and designing new projects, and more recently as a full time secondee leading our citizen and cross-government activities.  I've never regretted taking on such a varied and busy role, and believe it's developed me in both my professional and personal life.  Who else gets to work with talented and passionate people from all across government, and take inspiration from all of them in new and exciting ways?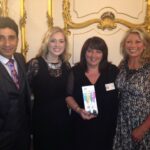 There have been too many high points to mention, but winning a Civil Service Award in 2014 and using the success to drive our programme even further forward has to be at the top of the list.  But as with any job, there have been frustrations and lows as well, normally involving blistered feet after another event that always seemed to fall on 'the hottest day of the year'!
Reflecting back on my time with CS Local NW, I'm incredibly proud of what we've achieved together.  We started with literally nothing, and now there are so many people and amazing bits of work going on, that I can't keep up.  A while ago, I blogged about the Top Ten Things I'd learned through working in this role, and they are as relevant today as when I wrote them.  In truth, I could probably write down a hundred more, but I think you'd get a bit bored.
The key thing I'd tell anyone is to take a chance and grab the opportunities around you.  You never know where they will lead you, and if they don't work out, you can always find a Plan B.  It's more than likely they will lead you to a whole new, fascinating place.
I know that all those involved with CS Local will continue to achieve brilliant and unique things after I leave – it's in the team DNA now. I'll be following closely online and checking in with the boss to see what's happening (in between nappy changes and episodes of 'In the Night Garden'!)  I can confidently say that the skills I have learned in this role have prepared me well for motherhood (isn't it all about transferable skills?)  I'm now a whizz at thinking on my feet, multi-tasking and creating masterpieces from 'stolen' cups, paper plates, tiddly-winks and sticky tape.  Parent-child craft days will be no hassle.
To all of you I've had the privilege to work with over the last few years, I sincerely thank you for how much you have taught and inspired me.  It has been a fabulous journey and one that I hope to re-join in some way in the future.