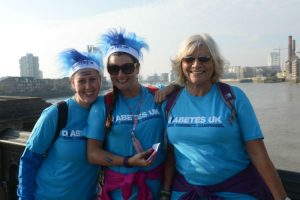 Would you like to volunteer as a marshal to support Diabetes UK flagship event next month!
The event
The London Bridges Challenge is a sponsored 10 mile walk through the heart of London on 9 October. We are currently looking for volunteers to help us marshal the route and make our fundraising walkers feel great on the day.
It is a really lovely event and we are expecting 2,000 walkers on the day! The event is really important for Diabetes UK and helped us to raise over £100,000 last year to support the 1 in 16 people living with diabetes in the UK.
This year the event is looking like it will be bigger than ever, so we are looking for as many volunteers as we can find to support with various activities including helping to set up, close down, welcome our walkers and marshal the route.
We simply couldn't do this without a great bunch of amazing volunteers, so please do get in touch if you are interested in helping us to put on this brilliant, fun and community filled event!
The walk will set out from Chelsea Football Club (SW6 1HS – nearest station is Fulham Broadway) before snaking through central London across 13 bridges and finishing at Agenda Wine bar (EC3R 7AA – closest stations are Aldgate and Bank).
We are looking for anyone who is available between 8.30am and 17.00pm (slots are between this – not for the whole day!).
Requirements
Enthusiasm, energy, a willingness to help, marshal and encourage everyone on the day. We will provide all materials needed and reasonable volunteer travel expenses can be reimbursed.
How to get in touch if you are interested
Please reply by email to  Claire.lubbock@diabetes.org.ukreferencing Civil Service Local. Please include any preferences you have on your volunteering (eg, not to be based in the finishing venue where alcohol may be served)
If you want to know more
diabetes.org.uk/bridgeschallenge