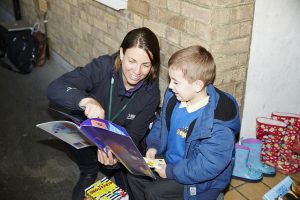 Are you passionate about books/literacy/equal opportunities/social justice and looking for a way to give back directly to your local community? This could be the project for you.
Doorstep Library are setting up a brand new project in the Pimlico area next month on Tuesdays at 4.30pm.
Doorstep Library organize teams of volunteers to visit children at home on council estates with backpacks full of books. They read stories, lend books for the week, provide a listening ear for parents and encourage families to get out and about in their local community. In short, volunteers make a big impact on the families they visit for just a small weekly effort.
Rachel, who has been volunteering with us for 5 years now, says; I always feel so much for spending a few hours reading. So much better than if I had stayed at work!
Come along to one of the Info Sessions to find out more. Simply book your place by emailing enquiries@doorsteplibrary.org.uk and please mention CS Local.
You can read more about what is involved here - Home Reading Volunteer or visit their website www.doorsteplibrary.org.uk