We welcomed nearly 700 students, from 50 schools across the county to our Changing Horizons event in March. They arrived at the Winter Gardens in Blackpool via various modes of transport – some were a little anxious about what was to come; some were excited and couldn't wait to get started! The quiet, almost empty Floral Hall burst into life as they made their way into the Empress Ballroom and Arena – the buzz in both rooms was electric!
The students spent the day taking part in lots of fun, educational activities which we designed to help them build skills for work and life. We wanted each and every one of them to know that no matter where they started in life, with the right attitude and approach they could achieve.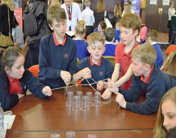 The activities were fast paced and interactive and included a 6-cup stack game (teamwork); sampling food (nutrition / money management); art (communication skills); cyber security; career jenga; acting skills, table tennis (health & fitness), dressing for jobs / interviews etc.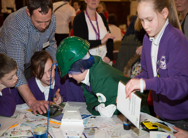 We asked the students to tell us what they thought about the day, each one shared their feedback in the form of either a drawing, poem or a quote.
98% of students said the event had helped them learn about jobs and opportunities in the area.
 "After today I feel I have learnt more. Never is not a word, maybe is a word. I feel I have experienced different jobs, my personal thoughts of jobs is wide. All my thoughts lead to education and jobs in the future. Learning about new things makes me confident. Sometimes you just have to try."
"I feel like I now have an inside look of what it's like working and about jobs etc. I have thoroughly enjoyed today it was so much fun! The skills which I have learnt about tasks and other things… thank you very much!"
The success didn't stop there, we provided an "Opportunity Wall" for employers to post their offers of support from within their organisation (e.g. mentoring, work experience etc) and for the teachers and students to place their requests for support from employers or training/voluntary establishments 40 cards were completed by 12 schools with either personal requests from students or from the school itself.
Examples of their requests include first aid training; work experience, financial literacy and information on apprenticeships
25 employers offered support in cyber security; first aid; work experience, hairdressing apprenticeships
Since the event we have facilitated 68% of the connections between schools and employers and established plans for longer term relationships (e.g. mentoring opportunities within the retail sector and additional visits to schools to promote careers within the Civil Service as part of our Inspiring Young People programme).
At the start of our Changing Horizons journey, one of our team said: "If we can raise the aspirations, and make a difference for just one of the students at our event, then I'll be happy".
Job done!
We're planning future Changing Horizons events in the north west so watch this space for details about how you can get involved!