Beanstalk is a national charity with over 40 years' experience of providing trained one-to-one support to children in primary schools through volunteer reading helpers. Volunteers are urgently needed across London for a new short-term literacy support programme launched to give Year 6 children the skills they need to succeed in their education.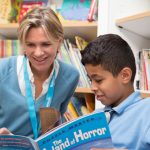 If you're over 50 years old and looking to bring real change to the education of a child in your local community, as well as have lots of fun, then this could be the perfect short-term volunteering opportunity for you.
With Beanstalk Reading Transition, you will provide intensive yet fun literacy support to four children in your local primary school on a one-to-one basis for 12 weeks. Together you will read, talk and play educational games to help transform their approach and attitude to reading. Using your skills and experience you will help the children you support gain the skills and confidence they need to transition to secondary education.
Becoming a Beanstalk Reading Transition volunteer is also a great way to keep yourself active, develop new skills, and become part of your local school community – with over 80% of Beanstalk volunteers saying that it makes them feel more mentally and physically active.
With Beanstalk Reading Transition you will be provided with training and on-going support to help ensure that you have an effective and valued volunteering experience.
If you would like to make a difference as a Beanstalk Reading Transition volunteer then visit https://www.beanstalkcharity.org.uk or call 0845 450 0307. Please mention Civil Service Local when you contact them.
To find out about other volunteering opportunities available at Beanstalk please visit www.beanstalkcharity.org.uk