Volunteering can make a real difference to the lives around you, whilst adding something great to your life and of course your CV! We want to ensure that civil servant volunteers who are thinking about giving some of their time to a school can find an opportunity which is right for them.
Inspiring Young People: Engaging our Schools Programme - is a CS Local national programme offering civil servants the chance to work with school students a couple of hours a week over a 6 week period to impart employability skills and instil confidence. This has a cross-sector element to reflect wider options available in the world of work. Click on our blog about Villiers High School in Southall to see an example from last year.
School: Chace Community School in Enfield, EN1 3HQ, London.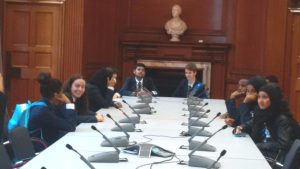 How you can get involved: We require a Project Manager (PM) and 6 team members. PM's will receive an induction in September . Read about the role.
Timings: Project Manager (Induction in September) and school delivery w/c 30th October for 6 weeks.
If you are interested please get in touch stating your preference of PM or team role and describing (max 250 words) how this opportunity will benefit you and your department and what you will contribute to the success of this project by 6 September.
Please contact us if you would like to get involved with these or any future opportunities.