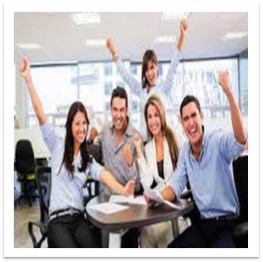 "Empowerment & Wellbeing" is an event that focuses on health, general wellbeing and boosting morale within the workplace.  Providing staff with the necessary tools and self-help strategies and helping to identify how these can be applied to everyday life.
The event will host a variety of stalls from different organisations such as the Civil Service Sports Council (CSSC) and Eutopia Health and Wellbeing. There will be taster sessions of massage and reflexology; 3 workshops that aim to re-energise staff by discussing topics such as reflection, boosting morale and live well/work well. Further information about the workshops are listed below. It will also provide an opportunity for colleagues to network.
Workshop information
Morale Boosting workshop - This workshop is all about boosting morale in the workplace with interactive games as well as hints and tips on how to do this in a fun and effective way. Delegates will learn fun ideas and be able to take this knowledge back to their workplace
Reflection workshop – Centred around providing effective tools to facilitate reflection, this workshop offers a step by step process of reflection and how it is beneficial within the workplace.
Live well work well workshop - This workshop focuses on developing your personal resilience and addresses ways to boost your confidence whilst encompassing some fun activities.
Details of the event
When: 28th November 2017
Where: 2 Rivergate, Temple Quay, Bristol, BS1 6EH.
Time: 9.30am – 2.30pm finish (but you can continue to visit stalls and network with colleagues until 3.30pm)
Grade: Any grade can attend this event however line managers and staff who are involved in (or have an interest in) health and wellbeing, will find this event particularly beneficial.
We need to know numbers that are attending, so everyone must register for the whole event.You don't have to attend workshops, but if you would like to, there are 3 running at 10.30 am, 11.45 am and 13.30 pm.  You can book 1, 2 or all 3 workshops, or just drop in for part of the day and visit the stalls to network and sample the taster sessions. During the booking process you will be asked to specify which workshop(s) you would like to attend.
Please note that you will need to seek approval from your line manager and any travel and subsistence costs must be met by your department. This is a learning event and can count towards your 5 a year learning and development days.
Please also be aware there is no parking available at the venue, but the office is close to Temple Meads train station and there are public car parks nearby. Refreshments will be provided but lunch won't be, so you are welcome to bring your lunch with you and stay after the 2.30pm finish to network.
If you have any questions please email Sharon Griffiths.
Civil Service Local are committed to ensuring that wherever possible our events are accessible to all participants. If you have any specific requirements that will enable you to fully participate, please let us know and we will endeavour to make any reasonable adjustments.