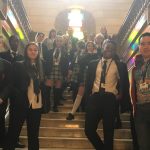 Following the successful start of our Inspiring Young People programme in several schools this month we are pleased to announce that we will be running the programme in Langdon Park School (Poplar, E14) after Easter.
We are also still looking for volunteers for Villiers High School (Southall).
If you can spare a couple of hours a week (plus planning time) for approximately 6 weeks to help these secondary school students, often in danger of dropping out of the system, we would love to hear from you.
Typically you'll be working with a team of 6 or 7 cross-departmental civil servants to prepare and deliver motivational activities to help the students understand the benefits of working, recognise and develop their employability skills and provide help with CV writing and interview techniques.
You can read how a previous team got on at Villiers High School
During the project you build a rapport with the students and have the reward of seeing them develop over the weeks. You'll benefit from working with colleagues from other government departments and developing a range of skills while the students will learn from your experience and skills.
How to get involved: We are looking for team members to deliver the programme. Please read about the role, which includes the outline, benefits and time commitment, and discuss with your line manager to ensure that they are fully supportive.
If you are interested please send your EOI* stating your preference for school, your grade and describe (max 250 words) how this opportunity will benefit you and your department and what you will contribute to the success of this project by 23 February.
Volunteering can make a real difference to the lives around you, whilst adding something great to your life and of course your CV!
*Sending an EOI signifies you have read the role, agree to the principles of the programme and have line manager approval. Any T&S to be paid by your home department.