The aim of the Jesters' project is to improve cross-departmental working, and the family's David McGilloway-Penfold told us after the residential academy event: "We decided on a digital solution that would enable the Civil Service workforce to meet and liaise with people in specific roles in their region. The tool will empower the workforce by making it easier to find learning and developmental opportunities."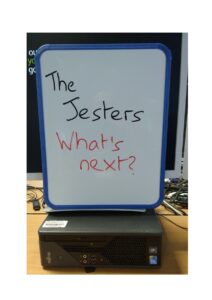 Six months on, how has that plan matched up to reality? The team are having to overcome a number of challenges: one member has emigrated, and others have seen increased pressure on their time following promotion. But the fact that team members have been promoted highlights the beneficial impact of attending the academy, even while it can make delivering the project more challenging.
"Despite these issues we are still feeling positive," said David, of the Department for Work and Pensions. "However, we do feel the scope of the project may need to be changed to reflect the difficulties we've encountered."
"We are discussing a job shadowing trial which we will carry initially amongst the team…….. to get an idea of how job shadowing works, and to give us some first-hand experience. We're hoping this will frame and inform the process."
The Jesters took part in the academy mid-year event that provides a vital check-point for all the families to assess their progress and plan their next steps. Held at HM Prison Thorn Cross near Warrington, it was a chance for the academy families to be reunited with each other and share experiences.
Each family delivered presentations to highlight what has been delivered so far, what challenges have been overcome, details of successes and what steps are planned next.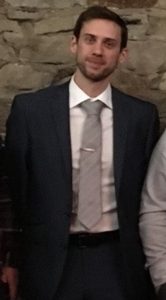 David said: "The best thing about the day was it provided us with a great opportunity to realign, and we have already arranged tele-kits and project meetings for the coming months. We're hoping to organise a number of job shadowing pilots amongst the team, to give us some first-hand experience of the process to inform our platform and shape our CS Buddy job-shadowing tool."
Surveying his academy year at the mid-way point, David was upbeat about what has been achieved so far.
"Attending the academy and taking part in this project has had a very positive impact on my day-to-day role," he said. "It's provided me with a greater confidence in my abilities and a better understanding of what it takes to be a good leader.
I'm now acting with greater responsibilities within the team and will act as deputy service manager for the DWP's Enterprise Mobility solution during my time in the role."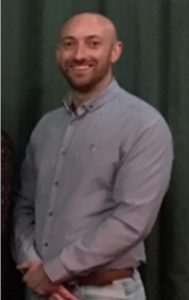 Fellow Jester Chris Bradshaw was equally enthusiastic about his academy experience so far. He said: "During and after attending the academy my total outlook to my career prospects have completely changed. The academy - and working with my Jesters family - helped me focus and realise my full potential. Since returning to my day-to-day job after our initial five-day academy residential, I have been successful in promotion to Band O."
Chris, from HM Revenue and Customs (HMRC), added: "I can honestly say that attending the academy and working alongside some very talented people has helped me further my career, and in turn helped HMRC achieve their goal for academy attendees."
Keep tuned into the blog for announcements about to apply for this year's academies so you too can have the same great experiences that David and Chris have had.