Sixty-five days ago, CS Local Scotland was launched at the 'A Brilliant Civil Service in Action' event in Glasgow. It has been quite a journey, and I have learnt a lot along the way too, including BLUF (thanks Richie Ireland!).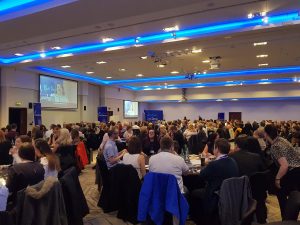 Since then, I have been overwhelmed with the support I have received and the open invitations to understand the current business challenges, get to grips with the Civil Servant landscape in Scotland, and speak to literally thousands of you to spread the word and hear your thoughts on ideas on priorities to consider.
For those of you that I have met, you will no doubt be aware of the statistic of 43000 Civil Servants in Scotland, and 43 different Departments or Agencies and the fact that 50% of those are not in the Central Belt - so I have a bit of a challenge on my hands.
That said, we've achieved a great deal already: 
Senior Responsible Officer in place (Rozanne Kidd, HM Passport Office)

Senior Sponsors in place for 5 Cross Government Networks, 2 Academies and a programme to look at Careers in Scotland (Richie Ireland - MoD, Tammy Baillie - HMRC,  Nicola Rudnicki - DWP, Anne Mackie - Department for International Development, Diane Whateley - HMRC, Graham Mowat - DWP and Julie McHugh - HMRC. A few more appointments will hopefully be confirmed shortly, hopefully in the form of Calum Sim - MoD, Fiona Wallace - HMRC, Susan Ward - DWP)

Leads in place for 3 of the Networks (Lorna Hay - DWP and Gillian Crawford - HMRC and Andrew Greig - DFID)

Project lead in place for our first Vulnerable Young People project (Mo McGuinness - HMPO)

Lead in place to co-ordinate the Discovery Sessions (Emma Jones - HMRC)

Held the first CS Speed Connect sessions at Civil Service Live in Glasgow (thanks to everyone who helped and participated)

First Cross-Government Network up and running - Social Mobility, with 9 membership from 9 Departments already

Six Discovery sessions in 4 locations looking to raise awareness of CS Local - capture the work already underway within and across Departments and discuss ideas for new ventures and expansion of existing ones (with thanks to Patrick Brown - DFID, David Odd - HMRC, Andrew Bryant - HMRC and their teams, and Fiona Wallace - HMRC, Julie McHugh - HMRC and Sian Rasdale - DFID for the logistics and senior leader support)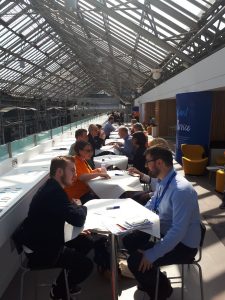 In terms of what's coming up:
Phased launch of Engagement, Learning & Development, Digital, Diversity & Inclusion, Continuous Improvement, Skills Transfer Networks after the summer - if you are interested in joining watch this space!

Approach for gradual ramp-up of the Vulnerable Young People project - discussions in August

More Discovery Sessions , with a blend of awareness of CS Local and bite-sized learning / awareness sessions - including one on Leadership and one on Personal Resilience and a chance to explore what Professional functions there are in Scotland, and hear from senior leaders about Career Paths in Scotland (coming to different locations too, including Aberdeen, Falkirk, Laurieston and more!)

'Meet the Neighbours' event in Glasgow - a chance to connect with and learn about other Departments that are literally on your doorstep

First Steering Group - 12 September, will (hopefully!) agree the CS Local Work Programme

Launch a 'Connections' programme - giving people the chance to shadow, mentor & conduct action learning sets with others across Departments (you will hear more about this in a future blog as we already have a couple of shadowing days arranged with senior leaders from Home Office and Scottish Government)
And on the horizon:
How to support Career paths in Scotland

Extend the Supporting Vulnerable Young People programme

Commence the Supporting Vulnerable Adults programme

Plan & deliver 2 Academies - one for up to EO grade staff and one for HEO & SEO grade staff
So, plenty still to do. Over the next few weeks I plan to scope out some of the areas where there are gaps and where I need people to support me and the various strands of activity we are looking to launch in the not too distant future - this can be alongside your core role in a variety of ways, watch this space!
However, back to m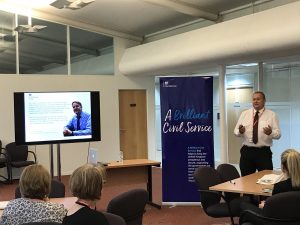 y learning point for this week. I know my BLUF (Bottom Line Up Front) should have come up front but hey, nobody is perfect - where I do need support is reaching out to get messages out into Departments, the best way to do this will be through existing Internal Communications leads - therefore, if you are an Internal Communications lead for your Department in Scotland, or you know who they are, please get in touch with me (andrew.crich@cabinetoffice.gov.uk). I can't reach 43000 Civil Servants alone - this is where I really do need your help just now. 
Those of you that are taking leave in the next few weeks as the summer holidays are upon us enjoy the break, and look forward to seeing you soon.
Andrew Crich
CS Local Co-ordinator Scotland