What is Changing Horizons?
The events will bring together up to 500 young people in areas of low social mobility, local employers, educational establishments, the voluntary sector and Civil Service departments. The primary focus of the events is to raise the aspirations of young people and their families. Our interactive events provide young people with the opportunity to develop skills and experiences that will be helpful in the search for, and during, future employment.
2018 Changing Horizons events were a massive success and the feedback from both schools and employers was excellent - here's what some of our volunteers from the event enjoyed about the day:
"Seeing my group of year 9 pupils' confidence grow. Tapping into their minds and enabling them to realise it was ok to think big and to aim higher. My group were exactly what the day was all about - they were uninspired and bored on arrival and left chatting, happy, inspired and confident. Amazing!"
"Seeing an immediate impact I was having on people's lives, which I don't get in my 'day job'."
How can you get involved?
We are looking for volunteers from all areas of the Civil Service to attend one of both of the events in Oldham and Blackpool, to carry out various duties and help ensure the event is a huge success. Volunteer roles range from receptionists/meet and greet to school guides and photographers. This is a really exciting opportunity for you to support your local community, develop your skills and competencies and meet new colleagues.
Please click here for a list of the volunteer roles available.
Key Information:
Blackpool – Winter Gardens - Thursday 7 February 2019
Oldham – The Queen Elizabeth Hall – Thursday 14 March 2019
Both events will run from approximately 10 am to 3:30pm, however volunteers will need to be at the venues by 8:30am.
All volunteers will also be required to attend a briefing session approximately 3 weeks prior to the event.
All volunteers must gain their manager's approval they can be released and that any travel expenses incurred can be covered by their home departments.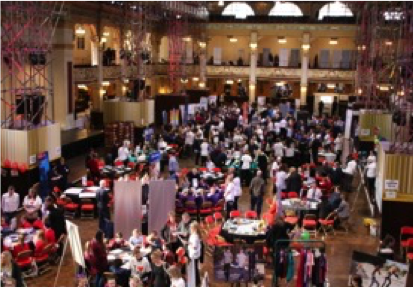 If you are interested in volunteering for the day please contact Karen Mee or Andrea May with the following information:
Whether you can support the Blackpool, Oldham or both events
Which department you are from
Any roles that you are particularly interested in (please note that we cannot guarantee role preferences)
If you are first aid trained
Any accessibility issues you may have
If you were involved in 2018's events
Is there any other way I can help?
Yes - we are looking for some inspirational celebs to make short 30-60 second videos to play to the pupils at the start of the day. If you have links to anybody who the young people will know and who might be willing to give 60 seconds of their time to make a video then let us know.
We also want the event to get some coverage in the local media (papers, radio, TV). If you have any contacts who might be able to attend the event and report on it then please let contact Fran Lalor.