The end of the year and the start of new one is a time to reflect on what we have achieved and to plan and maybe make some new year's resolutions.
At our Winter Conference we  got together with our colleagues across the whole of England, Wales, Scotland and Northern Ireland. We took this opportunity to look back at some of the great things we have achieved with you this year as well as planning some fantastic things for the new year.
Academies
We've met some terrific people this year at our Future Leaders Academy. It is amazing to see how the delegates have grown and developed through their experience at the Midyear and End of Year events. It was also fabulous to meet all the new delegates in August as they started their development adventure. Some are already reaping the benefits of getting involved.
The academy gave me a new lease of confidence with my own ability and showed me how well i can work and thrive within a team, and also have me a new focus of what I wanted out of my career within the civil service. All of which I think came across  within the interview
Anna Phillips (Suleyman Family) who was promoted from an AO to an EO is a completely different department within Defence Infrastructure Organisation shortly after joining the Academy programme.
Volunteering
This year has seen us provide volunteering opportunities for staff to serve the most vulnerable of our citizens. These include close working and training with Refugee Action and Local Authorities assisting with the Syrian resettlement project, helping those citizens with speaking English and booking appointments.
We also worked with a charity called Catch22 in Staffordshire, who  are taking staff through training to work with young people at risk of sexual exploitation. This training will also provide those staff with accredited qualifications. You can see our full range of volunteering opportunities in our News Bulletin.
Meet the Neighbours at Victoria Square House
This was very local to us and gave us an opportunity to learn more about the Departments within our building. We enjoyed chatting with colleagues who share our office space about what they do and how; building those networks.
We also took the opportunity to support local charities Welcome Change (through donations for coffee and cake) and St Basil's (by collecting 21 shoeboxes worth of donations for homeless young people in our area). The atmosphere was fantastic as was the feedback received. Staff certainly felt enthused by attending this event, clear evidence of "A Brilliant Civil Service" in action.
Launch of Health and Wellbeing Network
This year has seen the successful launch of our Health and Wellbeing network. This is already a lively and active network with members delivering Stress Awareness and Mental Health in the Workplace sessions to Civil Servants  at various locations around the Midlands. They are also preparing to deliver "train the trainer" sessions so these sessions can be delivered further and also planning a large "Health and Wellbeing Flourish Festival" in the Summer of 2019. Do look out for more details as the plans develop.
We continue to use our networks as effectively as possible - our Stakeholder Engagement and Customer Insight Network delivered valuable advice and training to our current Academy Delegates.
Getting involved as a Team
At our team build day with the Ediblelinks Foodhub we packed 25 boxes with food supplies for schools in Warwickshire to distribute to families in need.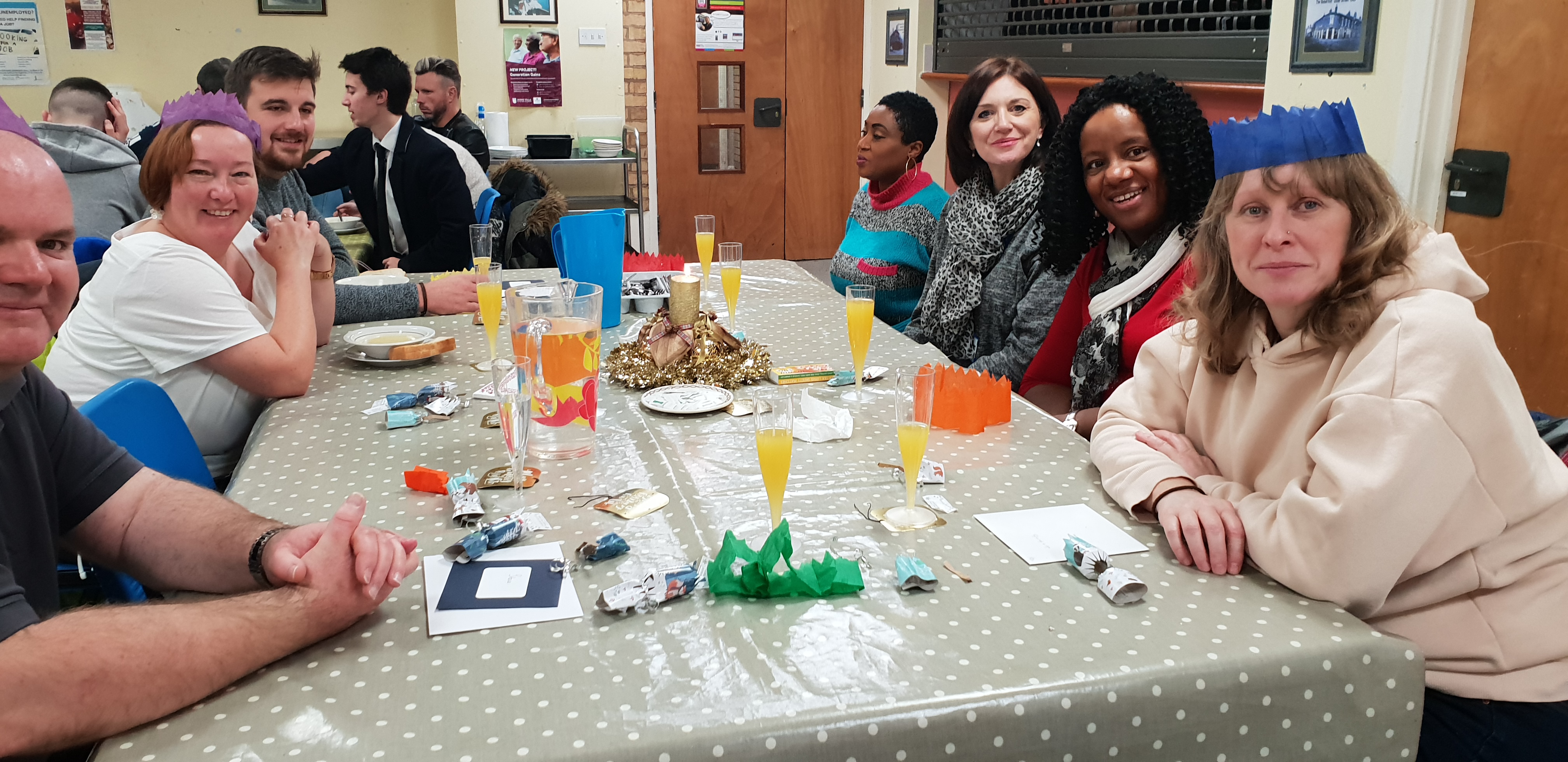 Our Christmas lunch  (which we all agreed was the best alternative ever) was at The Real Junk Food Project in Ladywood. This is an enterprise that collects food that would otherwise be disposed of as landfill to make into tasty meals on a pay what you can basis.
It's only just begun
We have lots of discovery sessions already planned for next year. We will continue build, maintain and use our networks. All our volunteering opportunities are advertised in our News Bulletin. Please drop us an email if you'd like to join our mailing list. New opportunities in 2019 include assisting with GAP projects at local hospices, working with low risk offenders and assisting in a programme to help young people who have just left the care system gain the skills they need for employment.

Why not have a look and see opportunities you could take up as part of your resolutions for 2019?