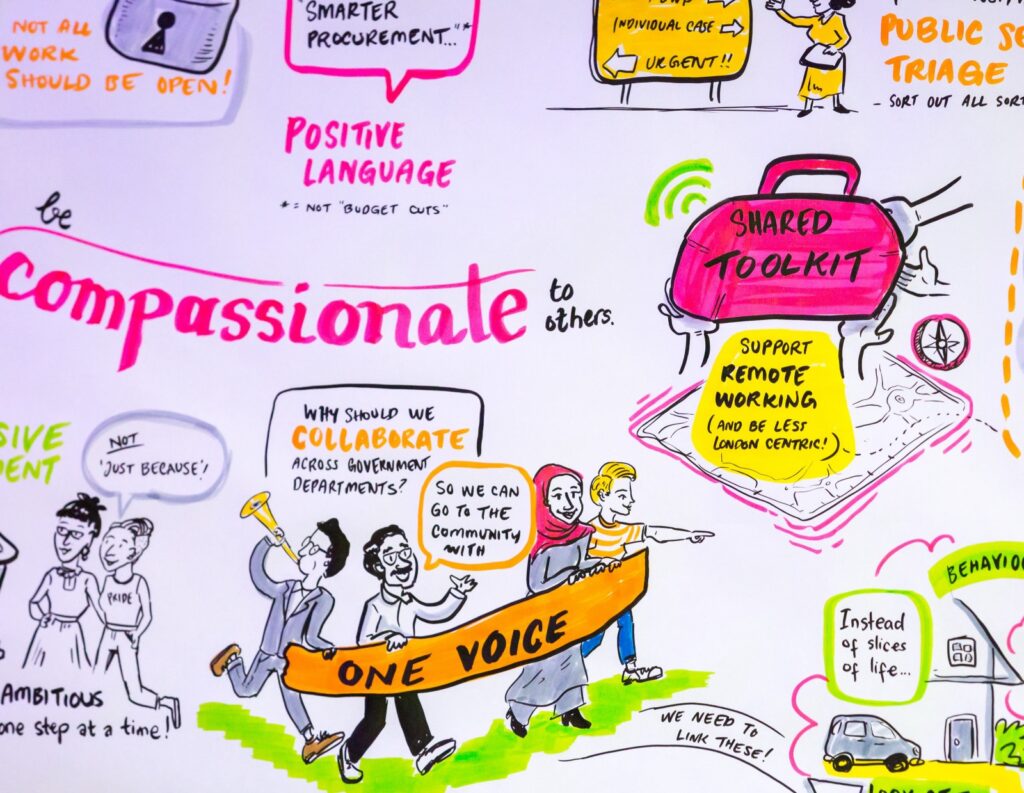 One Team Government (One Team Gov) is a community of public servants and their allies working to improve public services and reform the way our sector works. The network seeks opportunities to find common ground between groups and across boundaries, to inspire, teach, and give practical help to reform-minded people.
One Team Gov has set out five goals for the coming year, of which one is Diversity and Inclusion. This is at the heart of our overall aim to improve the way we work, because everyone deserves to work in a more inclusive environment. We believe that when people are able to be themselves at work we welcome more diverse voices that in turn help us to produce better services and outcomes for citizens.
On Thursday 6 June 2019, we are running Wellbeing Camp. Our communities are telling us that they'd like to talk more about wellbeing and inclusion; that public servants need to know more about how we create an inclusive culture and, crucially, take care of each other.
The event will look in more detail at inclusion and the impact this can have on our wellbeing. Inclusion is about you, me, all of us; it is about belonging, purpose and wellbeing. This is One Team Gov's commitment to creating a safe space to start this conversation.
By the end of the event you will:
learn and share good practice and the tools, education and learning available on wellbeing and self-care
engage with existing networks and connect with the One Team Gov community
receive support to help you create an environment where people are ready to bring their whole selves to work
explore your triggers and successful techniques for becoming more comfortable with change and uncertainty
learn how to balance getting your teams to perform more for less, understand the impact and collaborate to take a fresh look at your situation
One Team Gov events provide a safe environment for everyone to share things they are passionate about. If there are areas you'd like to identify, start to improve, connect with like-minded people who can help you, in a way that suits you, then Wellbeing Camp is for you. You can tell us about something that's important to you, a problem you, your colleague or team have that we can help with. Or you can tell people about something you've done that can inspire and help others make a positive change.

Give us yourself just for one day and help us all be a Brilliant Civil Service.
Where: Cloth Hall Court, Quebec St, Leeds LS1 2HA
When: 6 June 2019
Time: 10:00am to 4:00pm
Lunch and refreshments will be provided.
You can find further details here and here.
Please note that any travel and subsistence costs must be met by your department. One Team Gov have produced a template business case if you need a hand asking your manager or colleagues to release you to attend. This is a learning event and may count towards your 5 a year learning and development days.
One Team Gov are committed to ensuring that wherever possible our events are accessible to all participants. If you have any specific requirements that will enable you to fully participate, please let us know and we will endeavour to make any reasonable adjustments.
If you have any questions about the events please email Nour Sidawi.