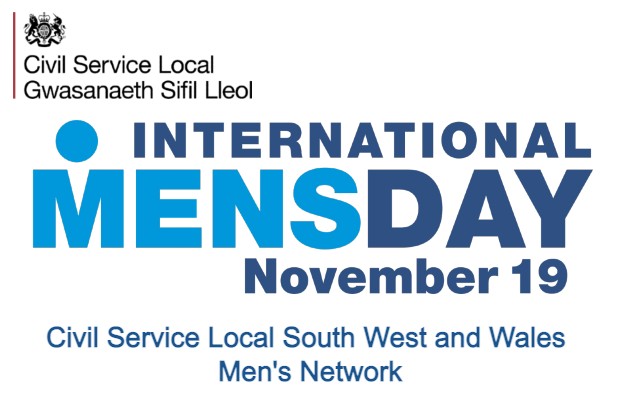 ​​International Men's Day (IMD) is celebrated across the world.
Civil Service Local and the Civil Service Local South West & Wales Men's Network are delivering a series of events across the UK during the week commencing Monday 15 November. We will be considering and examining some of the main impacts for men and colleagues in the Civil Service; primarily aimed to GET MEN TALKING.
The events will promote useful and appropriate organisations that colleagues can refer to, including IMD charities. An interactive Q and A session will be included in each event.
Our sessions will run through MS Teams, be recorded, and made available to those who are unable to join on the day.
We welcome and encourage all genders to attend.
 Monday 15 November 2021 10:00am to 11:00am
International Men's Day Opening Session
Your opportunity to hear about the aims of International Men's Day from Senior CS Local leads and the Men's Network sponsor, including what sessions are planned over the week and key aims and objectives.
Men's Mental Health- 13:00pm to 15:00pm
In this session you will hear from individuals who will share their own Mental Health experience, and initiatives they're involved in, including Man Down, Get it Off Your Chest, and Working with men with protected characteristics. All have lived experience and have helped support other men. If you're interested to know more please join.
 Tuesday 16 November 2021 -10:00am to 11:00am
Men's Health – Covid Edition
We'll hear from CSSC about some of the health impacts for men, with particular focus on impacts during Covid. CSSC will also talk about their 10 to 4 initiative.
Midday to 12:30pm
The Changing Role of Men: At Home and in the Workplace
A unique opportunity to hear from Paul Morrison Head of Place for London and the South East about the changing expectations men face at home and in the workplace, the challenges this can create, how we can manage these changes effectively, and in a way that will enhance our physical and mental health.
Baby Loss Awareness- 14:00pm- 15:00pm
Mike Warner Co-Chair of the CS Local South West and Wales Men's Network and Trustee of the Footsteps Counselling and Care Charity will talk about his personal experience, his activity externally and his plans for the future and activity in coordinating key civil service activity, to make a difference to men and women in the civil service, affected by Baby Loss.
Suicide Awareness - 16:15pm to 17:00pm
This session will be delivered by CALM (Campaign Against Living Miserably). Anyone who has experienced the loss of a loved one to suicide or opened up about suicidal thoughts will know the power the word has to silence a room, stunt a conversation, to encourage a change of topic. Suicide isn't talked about much. It should be. While it's one of the leading causes of death around the world, suicide is not inevitable. 125 people die by suicide every week – with 75% of those deaths being male. That's not ok, and it doesn't have to be that way. Suicide is preventable – with the right support and an open and equal society, no one should ever feel like there's no reason to go on. That's why CALM exists. Join us to hear more.
 Thursday 18 November 2021 - 10:00am to 11:00am
Parental Alienation
Janis James from the Good Egg Company will share her experience and work in the field of Parental Alienation and its impact on men, boys and all children. How the Good Egg Company are helping to inform policy in this area and support services for any colleagues affected. The psychological manipulation of children that forces them to reject an otherwise loving parent & grandparent as significantly harmful to children, in both the short and long term. We also recognise and understand the detrimental effect it has on the physical and mental health of all victim parents, grandparents and step-parents.
Prostate Cancer Awareness- 11:30 - Midday
Tony Collier BEM, is an ambassador, awareness speaker and fundraiser for Prostate Cancer UK. He will tell us his story of how he went from training for one of the world's toughest ultra-marathons to terminally ill in just 36 hours and the impact that his diagnosis had on his and his family's lives! Tony will also tell us everything that we need to know to help men be proactive about their prostate health and get diagnosed early when prostate cancer can still be cured and there are much better outcomes. The talk is aimed at anyone who is, or knows, a man aged 45 or over so please do join us.
Allyship - 14:00pm t0 15:00pm
Women's Network Lead Victoria Taylor will talk about the concept of male allyship, its importance to workplace gender equality and how colleagues can actively demonstrate it. The event will feature testimonies from male allies and showcase examples of allyship in action. If you are interested in learning more about why allyship matters and how you can get involved, please join us.
 Friday 19 November 2021
Male Domestic Abuse- 10:00am to 11:00am
Ian McNicholl from Men Reaching Out will talk about his personal experience, and how he now supports men affected by domestic abuse. The event will explore identifying signs for Line Managers, Family and Friends to be aware of, and what support is available. In 2020, 234,213 (26% of victims) men across Britain reported they had been victims of domestic abuse. This represents a 30% increase when compared to 2019 and a 113% increase since 2014 when 105,830 men reported to the Police
International Men's Day Closing Panel Discussion- 14:00pm to 15:00pm
Join lead facilitators and contributors from throughout the week session to reflect on some of the discussions and content, and outline a way to continue making strides in these key areas.
To purchase your ticket please click here for the Eventbrite link
We're looking forward to you joining us in helping to get men talking.
Please only register for these events if you are able to attend.