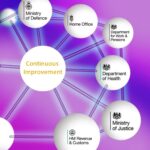 The inaugural Yorkshire and Humber Continuous Improvement (CI) Network meeting took place in Leeds on 4 December. The group were joined by Kate Silver, Deputy Director at the Cabinet Office Civil Service Group with a specific lead for CI. Kate gave an inspiring talk on Leadership and CI across government. The group identified many advantages of working together to support the Civil Service Reform Agenda and potential barriers and began considering solutions.
The second Network meeting took place at Foss House, York on 6 March, with representatives from Home Office, HM Revenue and Customs, Department of Work and Pensions, Food Standards Agency, Civil Service Local and Land Registry.  A key highlight of the meeting was the Food Standards Agency (FSA) presentation of their department's CI journey and culture including how CI initiatives were progressed, reported and the key documents used to ensure transparency and consistency. A great example of early networking is that FSA who run CI training events for their staff have invited Land Registry colleagues to attend to help them progress their department's CI journey.
We reviewed the barriers that were identified at the first meeting, agreed that many of them are within our gift to overcome, and outputs from the second meeting are to begin to tackle them.

A lively session on communications resulted in agreement that Yammer will be the group's main channel of sharing information. Thanks go to Chris Barr from the FSA who has set up a Yammer group for the Network.
Home Office colleagues will host the next meeting on 9 June in Sheffield and the agenda is shaping up nicely!
Please contact Steve Benson if you would like to become involved in the Network