I was working at Burnley Job Centre Plus when I first got involved with CS Local. It was back in 2012, and I volunteered to be part of an Inspiring Young People project, which aimed to raise the aspirations of school children. It was an opportunity for personal development and to do something different, with the potential to give something back to the local community. The programme was designed to help year 10 students to develop their communication and presentation skills, promote self-confidence and increase motivation. We showed them how to apply for jobs, write a CV and fill in application forms. We even held mock job interviews. I saw the students' confidence grow and their knowledge of the world of work increase. We also managed to change their pre-conceptions about 'stuffy' civil servants.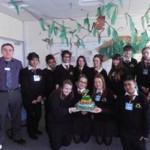 After facilitating the first project, I returned to lead the next one. Both projects gave me an insight into the lives of our customers in DWP and the community where I live and work. I learned to use my initiative and my self-confidence grew. I consider my involvement in the programme to be a major highlight of my career so far.
I developed further links with the local community, helping to bring together projects run by DWP offices in Burnley and the local authority's pupil referral unit. The unit works with students who are not educated in mainstream or special maintained schools. This combined the best elements of each project to improve education for students.
Realising the benefits for me and my home department, I decided to continue my development and took part in the North West Academy in 2013. This was a four day event aimed at enhancing the leadership abilities of civil and public servants. Speakers addressed us on Civil Service reform, career development and perceptions of the Civil Service. We did practical exercises to encourage critical thinking, teamwork and initiative. We ended the event by presenting our ideas for a project on Civil Service reform to a 'Dragon's Den'-style panel.
Enthused and energised on returning to the office, I found the 12 month project gave me the chance to conduct and analyse surveys, chair meetings and present reports. But, above all, the Academy taught me to be proactive about my own development. To further improve my leadership skills, in 2015, I enrolled for an apprenticeship in leadership and management, which I believe will again lead to benefits for me and the business.
I've learned a lot from my involvement with Civil Service Local. I've recognised that there's a wealth of experience across government that people can turn to for advice and guidance.
I believe it's paramount to have a digitally-capable workforce, as many of our customers now expect to access services digitally. Also, as civil servants, we all need to manage resources as efficiently as possible. My Civil Service Local experiences have emphasised the importance of engaging with people at all levels. If we can inspire, engage, energise and empower our staff, we can deliver a top quality customer service.