The Brandon Trust support adults with learning disabilities and autism. They run an allotment plot which provides a safe space for the people they support to experience nature, get some fresh air and exercise and take time out to relax.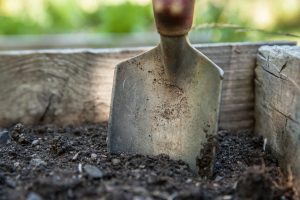 They need volunteers to help build momentum for their vision. They want their allotment to grow and develop into a social enterprise where they can sell produce to raise money for their work supporting people with a learning disability. Your support to help them reach this goal would be hugely appreciated.
There will be many tasks to complete including planting, digging, perhaps some repairs - something for everyone!
This is an excellent opportunity for you, as an individual or as a team (it would make an excellent team build activity), to help a local community.
When: 13 April, 11 May, 15 June, 13 July, 10 August, 28 September and 26 October – you can volunteer for one or more days.
Time: 10 am – 3 pm
Location: Brandon Trust allotment project, Chesham Allotments, entrance between 68-70 Chesham Road, Anerley, South East London, SE20 7RP.
Further details:
You will be volunteering alongside Brandon Trust staff, volunteers and people they support.
No experience in gardening or supporting people with a learning disability necessary.
Brandon Trust staff will provide full instruction and supervision. Your enthusiasm is more important!
All tools, gloves etc. will be provided by Brandon Trust, but we do advise you wear strong covered shoes/ boots and clothes you don't mind getting dirty.
Policies and insurance:
Minimum age 18
Brandon Trust have policies re: Equal Opportunities and Volunteering
Brandon Trust have insurance that covers people to participate in voluntary activities
The project does NOT require carrying out a DBS check on those involved
To express an interest and to find out further details please contact us.