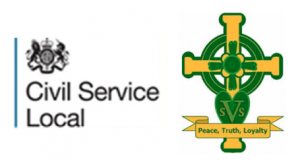 Last month I was approached by Civil Service Local and asked if I would take part in a careers day at St Vincent's Primary School in Walker, Newcastle upon Tyne to talk about the Civil Service and HM Revenue and Customs (HMRC). I have to admit I was unsure of how useful this would be as I imagined most primary school children would not have thought much about their career prospects; aside from the possibility of an X Factor or Premier League win. Nonetheless, I agreed to take part and I brought along fellow Corporation Tax Coordinator Lauren Daley to take part.
On the day I was quite nervous, mainly due to public speaking fears and what kind of questions may be heading our way. The afternoon was split between four classes of year's three to six and we had a twenty minute slot for our presentation. We shared our slot with a speaker from Barclays Bank and the children seemed really interested during his presentation so I thought perhaps we would be met with similar enthusiasm.
"So, can anyone tell me what a Civil Servant is?" as I was met with a sea of blank faces I was anxious as to how the rest of the afternoon would pan out. However, after Lauren and I were all warmed up our fears started slipping away, I could see that the children were really engaged and delightfully curious about HMRC. I also found their questions to be very insightful and challenging for such a young age. These included questions about people not paying the correct amount of tax to whether people pay enough tax.  As an impartial Civil Servant I responded with "Well as a Civil Servant I must remain professional and impartial, however I think everyone should pay the correct amount of tax tax to benefit the country"- good save.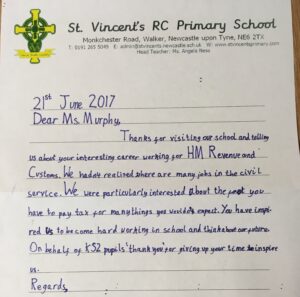 All in all I thoroughly enjoyed my afternoon and I'm sure Lauren felt the same. I feel more confident as a public speaker and I was really happy to receive a thank you card and letter from the students with one child saying "you have inspired us to become hard working in school and think about our future". Who knows, perhaps we have inspired future Civil Servants, I suppose we will have to wait and see.
If you would like to find out more about how you can get engaged with local schools please contact Anne Hunter