Team Chaffinches consists of civil servants from across government departments who met in June 2017 at CS Local ESEL Junior Leadership Academy as part of a year-long programme. Our aim was to become catalysts for change (with a fun twist) and this is where the A-Z to Better Wellbeing (AZ2BW) toolkit was born.
Our a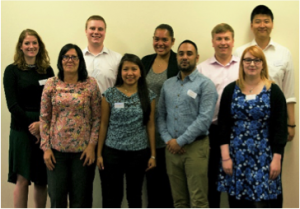 im is to support the vision to be 'A Brilliant Civil Service', making it a great place to work with a commitment to Health and Wellbeing.
Around 27 million of us go to work every day and full-time employees will spend an average of 37.5 hours a week in the work environment. This is why it's important for us to consider our wellbeing.
We created a toolkit that brings together all of the latest information on wellbeing and can be accessed in one simple and easy click. The toolkit also includes:
26 wellbeing topics from A-Z in an easy to read format
Featured wellbeing activities that you can try by yourself or with your teams. From journaling and walking to an exercise you can do at your desk
Links to further learning including CS Learning courses, Ted Talks and printable guides
A fun fact based around wellbeing
A-Z to Better Wellbeing toolkit accessible version 2019
If you want to find out about the funky chicken and its link to better wellbeing, check out our toolkit. Hint, it is in our letter D ☺
Commit to spending some time each day on your wellbeing and share your views and experiences on our Twitter account @AZ2BW or email us at AZ2BW@hotmail.com. We would love to hear from you.