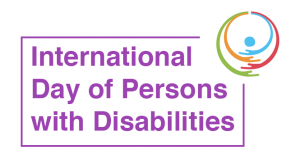 Since 1992, the United Nations International Day of Persons with Disabilities (IDPD) has been annually observed on 3 December around the world. The theme for this year's IDPD is 'Empowering persons with disabilities and ensuring inclusiveness and equality'.
This is a good prompt to think about what we can all do to help create an environment where people with disabilities can fully participate in all spheres of society.
It's doesn't have to be something big, sometimes the simple things make a huge difference to somebody.
We have heard some great examples through our Inclusion Network, here are just a few of them.
"Someone in my department had a problem with a wheelchair, impacting on their potential evacuation in an emergency. I'd recently moved between departments in the building and knew that there were some disused wheelchairs in my previous department. I spoke to the right people and now my previous department has permanently loaned a wheelchair. Problem solved!"
"I often missed out when teams chatted with each other, often about information or decisions that affected me. This left me angry and I would 'shut down, feeling like my head would explode. My current team make sure that I am part of conversations. I am grateful for this, to feel a sense of belonging, that I am no different to them. I am also grateful my managers give me opportunities to develop myself, something which didn't always happen because of 'potential issues' like communication."
Networks themselves are also an excellent way to help people feel included. One of the benefits is the sharing of initiatives. Another is being able to meet and connect with people that face similar challenges and have the same experiences.
Here's two examples from the Civil Service Visual Network and the Civil Service Hearing Network.
"Being part of the Civil Service Visual Network allows me to be me, to not feel uncomfortable about having visual loss, or to apologise for not being able to see. It is about being inclusive and not letting my visual loss define me.
I always used to watch Stevie Wonder and think he was the most amazing person because he didn't let his lack of eyesight stop him from fulfilling his dreams. I am so proud to say that there are lots of people like this in the Civil Service, some who have progressed to a very senior level, and not let their visual loss define them. They are so inspirational to others and me."
"The Civil Service Hearing Network recently shared this excellent guidance from Amanda on Helpful hints for making meetings deaf aware.
The guidance really brought home to me how much we can take our hearing for granted. The most amazing thing about Amanda's guidance was it showed quite clearly how inspiring civil servants with disabilities are in the way that they overcome the challenges they face everyday.
In particular, their aspiration to be as inclusive as possible, to not let their hearing loss define them. That to me is what a brilliant Civil Service and the International Day of Disability is all about, making not only ourselves as inclusive as possible, but inspiring and making our colleagues as inclusive as possible too, always looking to make things better for others in the future."
So, when someone says, why have an International Day of Persons with Disabilities on the 3rd December you can say the answer is simple, it is so that we can all celebrate as one, fight against the adversity of having a disability and be able to say with pride that our disability does not define us as people.
It's not always easy and straightforward but with the passion and drive that we all have we can make the Civil Service as inclusive as possible for everyone.
If you would like to know more about the Civil Service Hearing Network, or to join the network, please email civilservicehearingnetwork@gmail.com or follow them on Twitter at @cshearnetwork

If you would like to know more about the Civil Service Visual Network, or to join the network, please email civilservicevisualnetwork@gmail.com or follow them on Twitter at @CSVisualNetwork