A nationwide sleep out took place in 4 Cities on one night in December - with 12,000 people under the stars to support ending homelessness in Scotland, raising an amazing £3.65 million.
Just one of the many projects Social-Bite carry out highlighting the issues faced by homeless people in Scotland, providing opportunities through a range of social businesses, and much needed fundraising.
Three of those closely involved with CS Local, including our very own expansion lead Sonia Preston took part, with Sonia in Dundee, Mandy Loughlin (senior sponsor for Supporting Vulnerable Young People) in Edinburgh and Tammy Baillie (Senior Sponsor for the Engagement network) in Glasgow. Very proud of all of them for taking part, hear from each of the them below.
Sonia, who slept out in Dundee, is very passionate about helping vulnerable people and their pets, and said "proud to have taken part and found the experience very humbling and emotional.  After just 1 night  I can't imagine what it must be like to have to experience every night and to be honest I hope I never have to." Here's Sonia's  bed for the evening: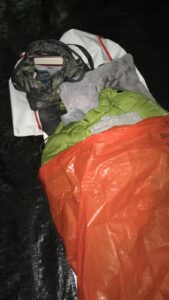 From Edinburgh, Mandy gave regular updates via Twitter, perhaps the most telling one about what life on the streets must be like being: "5.41am and the inside of our survival bags are now thick with condensation seeping through sleeping bag and biting hard. Most folk are now standing .... me included!"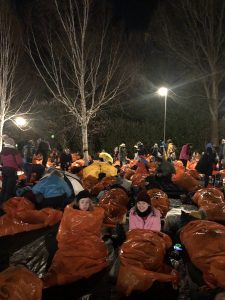 And in Glasgow, Tammy took part with her partner and recounts: "The weather was kind to us with the rain staying off but I cannot begin to tell you how cold it actually was! Having thermals on, 5 layers of clothes and a sleeping bag and it was still freezing!   I can honestly say it was the hardest thing I have ever had to do and I almost caved at 5.30am when I woke my partner to ask if we could go home only to be told another wee while! Someone asked me would you do it again next year and to be honest I actually don't know if I could do it again it was that tough, but I am lucky to have that choice!"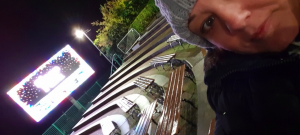 This is just the start of our partnership with Social-Bite and now Sleep in the Park is over for 2018 we will be getting together with them to see how we can utilise our Civil Service volunteering capability to support their social businesses as part of our Supporting Vulnerable Adults projects in 2019.  In the meantime though there are many ways you can support Social-Bite - even down to as simple as popping in for a coffee at one of their social enterprise cafès, going to their restaurant on your next time out either personally or professionally, or donate a meal or pay if forward via their website.
If you are interested in getting involved, please get in touch with Sonia Preston. At the moment we're still researching and shaping the projects but we'd love your input on that too.