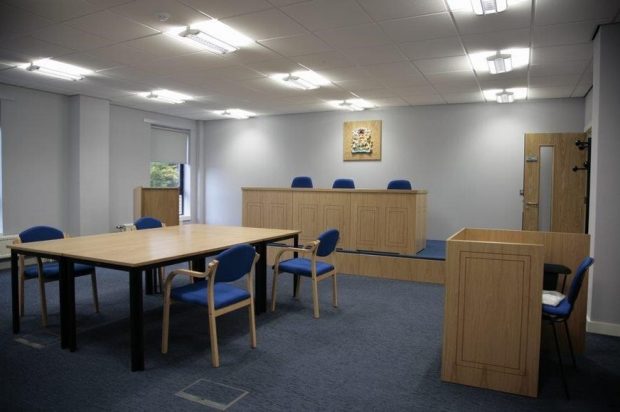 Happy New Year from the CS Scotland Learning and Development network!
This meeting was very kindly hosted by our colleagues from the Procurator Fiscal at the Scottish Prosecution College in Glasgow.  To learn a bit about the work they do, we had a short tour of the building, where we were told about the various ceremonies to celebrate successes they have – something that's important in all departments!
A particular highlight was visiting the mock court, where we were lucky and delighted to see one of the trainee prosecutors practise her statement to the Sheriff.  Some of us (I know one was me!) wanted to get the cloak on and take charge of the courtroom afterwards – it was so realistic and impressive.
Our meeting was carried out with the usual high enthusiasm for all matters L&D, with some sharing of best practices between departments. It's good to see that after only three meetings, ideas are being shared and implemented already, to help improve the learning offer for everyone. We discussed at length how to promote local CS Learning opportunities, and will be having further conversations on this in the future.
In  few months in Dundee, there will be a "Leaders of the Future" event, aimed at AO – EO grades (or departmental equivalent) to develop their leadership skills. More information will follow on this.
As always, it was a pleasure to meet with so many people who share an interest and passion in helping develop people to fulfil their potential and to provide the best learning opportunities we can, often on tight budgets. As seems to be the pattern now, we ran out of time very quickly, and have plenty to think about before our next meeting.
All the best for 2019, and if you want to get involved with the L&D network, please contact Sonia.preston@cabinetoffice. gov.uk, or the network lead Lorna Hay on Lorna.hay@hmpo.gsi.gov.uk.