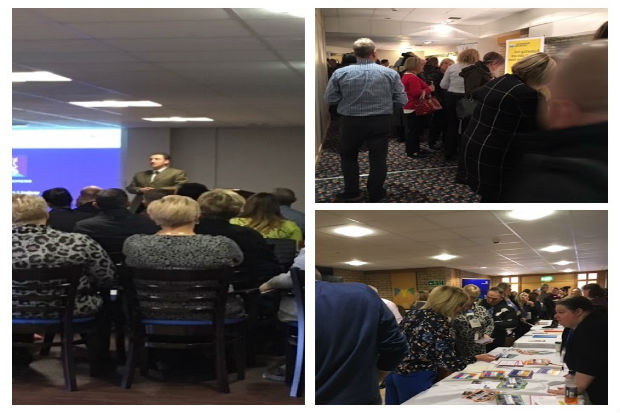 Civil Service Connect is a fantastic opportunity for civil servants to gain an insight into, and explore, some of the challenges facing departments in Scotland; to identify and improve the particular skills needed in times of organisational change; highlight opportunities for improved cross-departmental collaboration; and to support our vision of A Brilliant Civil Service.
Our second event hosted by Ministry of Defence at their Army Base, Leuchars, nr St Andrews welcomed  6 government departments represented by 43 members of staff of civilian and military grades.
11 departments from across Scotland attended to promote their work and 4 senior leaders shared their experiences of what 'A Brilliant Civil Service' means to them.  Following our first event we used your feedback to make our second event better than the first,
Here is what some of the delegates had to say:
really enjoyed the event, well organised, very insightful, interesting and informative
good delivery and interaction - gained lots of ideas to take back and implement - excellent event
well planned, good networking opportunity, enjoyed the stalls and particularly enjoyed senior leaders sessions which were so inspiring
4 short pillars presentations kept the audience engaged
a great way to understand other government departments and the Brilliant Civil Service Vision
enjoyed the down to earth manner in which the event was delivered
a great experience meeting like minded people
great speakers – all very different and engaging in their own way
particularly enjoyed the Leadership session – gained lots of ideas
fantastic to meet colleagues from other departments
Would you like to become involved in the planning of the third?  Would you like to showcase the work your department is doing by having an exhibition stand?
Can you confidently present a workshop/session on one of the following themes -
Skilled People, Improved Outcomes, Effective Leaders or A Great Place to Work
All of which underpin 'A Brilliant Civil Service' Interactive sessions should last approximately 45 minutes so that colleagues can network, hear about cross-departmental subjects and issues.
If you are interested in any of the above please get in touch with the project manager Margaret Duncan, Department for Work and Pensions by 22 January 2020
We will issue a further CS Local Blog nearer the time which will allow you to register for the event
Where - Registers of Scotland, Meadowbank House,131 London Road, Edinburgh, EH8 7AU
When - 31 March 2020