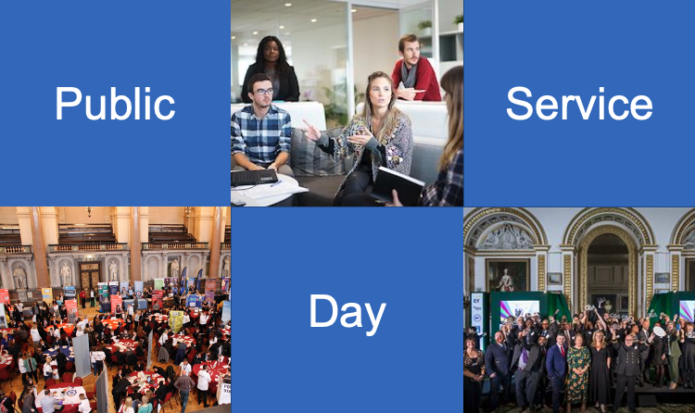 Wednesday 23 June is United Nations Public Services Day and to mark the occasion, Civil Service Local is hosting an online event to help celebrate all that we achieve, and to start the conversation about how we will continue to evolve as a modernised civil service for the 21st century.
By signing up for our event, you will have the chance to hear personal stories from award-winning teams and individuals that will inspire and inform you, and gain a much greater understanding of the different work taking place across the whole of the Civil Service, with a particular emphasis on the pandemic response and partnership working.
The event will include:
Keynote speeches from Rupert McNeil (Chief People Officer) and Alex Chisholm (Chief Operating Officer for UK Civil Service & Permanent Secretary for Cabinet Office)

The HMRC/HMT team which as delivered the CJRS (Furlough Scheme) and SEISS (Self-Employed Scheme) during the Covid-19 pandemic

Individuals at the heart of the Covid-19 public information campaigns across the UK

Personal reflections on a 40 year career in the Civil Service

The CS Rising Star Award winner with her thoughts on public service and community

Your chance to hear about the new Civilian Reserve

An overview of the new CS Vision and how this gives you the opportunity to make a difference
Our Public Services Day event will broaden your knowledge of the Civil Service, and all that it does, and ignite in you a passion to get involved in shaping the future and ensuring that we continue to have a public service that serves all its citizens!
How to sign up
When: Wednesday 23 June
10:15am to 12:45pm
2pm to 3:30pm
Where: Online links will be provided to everyone who signs up via this EventBrite link.
This event will be broadcast on YouTube and Vimeo. Delegates who have signed up via EventBrite will be sent the relevant links 24 hours before the event.  Please do check your devices in advance to ensure you can access YouTube or Vimeo; most departments should allow access, but if they do not, please be aware that you may need to use a personal device to access the event.