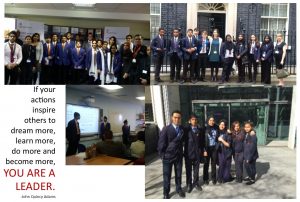 Volunteering can make a real difference to the lives around you, whilst adding something great to your life and of course your CV! We want to ensure that civil servant volunteers who are thinking about giving some of their time to a school can find an opportunity which is right for them.
Read this story to see the type of impact that can be made.
If you want to understand the 'Benefits of Volunteering' and potentially sign-up to our current opportunities please come along on 15 December 2016 in London (more details here or Book here).
Engaging our Schools - this is part of a CS Local national programme offering civil servants the chance to work with school students over a 6 week period to impart employability skills and instil confidence. Click on our blog about Villiers High School in Southall to see an example from earlier this year.
How you can get involved: We currently have a number of volunteering options to help engage young people in schools. We have Project Manager (PM) and team roles. PM's will receive an induction so please do keep 10 January 2017 free in your diary. Read about the role.
Please send an Expression of Interest to us (maximum of 250 words), stating a preference of PM or team role, please also state your first and second choice, or no preference, from the schools listed below by 05 January 2017.
Current opportunities will mainly be delivered in the school after February half-term, with team preparation in January. The School options are:
Regent High School - Camden
Park High – Stanmore (N/W London)
Villiers High School – Southall (West London)
Featherstone High School – Southall
Guru Nanak Sikh Academy – Hayes (near Southall)
Eden Girls School – Slough (West London)
Slough and Eton Church of England – Slough
Priory School - Hitchin
There will be upcoming opportunities in the Woolwich and East London areas too.
Please contact us if you would like to get involved with these or any future opportunities.
Inspire – Become a Mentor!
Mentoring is one way to make a positive difference to someone else's life while developing your own skills and confidence.
We have collaborated with a school in Southall, West London to develop a unique mentoring programme that will benefit both the students and the mentor. The programme will enable civil servants to mentor BTEC (Business & Technology Education Council) Year 12 students over the academic year, helping the students build their confidence, raise their aspirations and assist them in building key skills which will benefit them in their future, either in employment or further education.
As a mentor you will benefit from developing your communication skills, develop leadership and management qualities and increase your confidence and motivation. All this as well as giving a sense of fulfilment and personal achievement.
This opportunity is open to staff at all grades from all departments who believe that they can inspire others to achieve their full potential. If you are interested in becoming a mentor please contact us for more information.
The time commitment is approx. 2 hours a month starting in February.
Mock interviews – preparing the future generation for the world of work
We provide up to about 25 volunteers to deliver these events at a school. Depending on the year group, the sessions can include elements of one to one coaching with each candidate having between 30 and 60 minutes, including an interview and feedback.
We ran a highly successful day at Bristol Metropolitan Academy with 24 volunteers interviewing 150 Year 10 students. Another good example of this is with t2 Academy - mock interviews .
If you are interested in participating in 2017 please contact us.
Finally, we would like to hear from you!
If you know of a Secondary School in your local area that would be interested in a programme like this or are interested in any of the above opportunities please drop us an email.
Please remember to discuss with your line manager before signing up for any of our volunteering activities.