The four-day residential event that began my academy year was fantastic - the people, the atmosphere, the activities - and I never wanted it to end! I was part of the Elephant family, the name given to my group of academy delegates from across the Civil Service. Every family had to choose a project to deliver over the next 12 months, and we decided to create a digital and physical recruitment pack to outline the benefits of working for the Civil Service.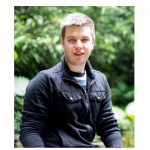 I soon found that my thinking had already started to change: I became much more confident and wanted to challenge myself in situations that would usually make me feel uncomfortable. I took the opportunity to project my personality in the presentations, something which I had never done before. My increased confidence and passion for self-development became obvious to others. I worked hard to become a bigger part of my work area and to be recognised by doing so.
Almost four months into the academy year, I applied for a front-line manager role and was successful. Remaining with my department, HM Revenue and Customs (HMRC), and staying in the same office, I became a very proud leader of 12 members of staff.
Despite my new responsibilities, I was keen to carry on helping the Elephants to create the recruitment pack. Before joining HMRC, I worked as a freelance photographer, gaining academic qualifications and experience of Adobe Photoshop. I made my team aware of the personal contributions I could make to our project, and my skills proved very useful in helping to pull the pack together. My creativity contributed to making it more visual and inviting.
It wasn't easy juggling my full-time job alongside the work for the academy in my own time. Things became more demanding when other members of the team dropped out, as the extra work all had to be picked up by someone else. I never thought about leaving the group, not for one second, even with the extra work. I knew the few of us that were left were all trying our best to see our project through to the end – and it all paid off.
We submitted our pack hopefully, and we were really pleased when the Civil Service Talent team said they wanted to use it as a starting point for the website showcasing the Civil Service. Even better, the Elephants have been invited to future workshops to help design and create the website, which will be used to recruit new civil servants. As a team we have spent a lot of time researching this topic, and we believe that we are in a good position to give our perspective on the subject.
I have recently been to the Academy end of year event, but that's not the end for me, as I will carry on helping to create the website with some of my Elephant family. I hope this will give me an even greater insight into the Civil Service, and also improve my design knowledge and skills by collaborating with others.
I opened myself up to everything the academy had to offer, and with that positive mind-set came positive results.