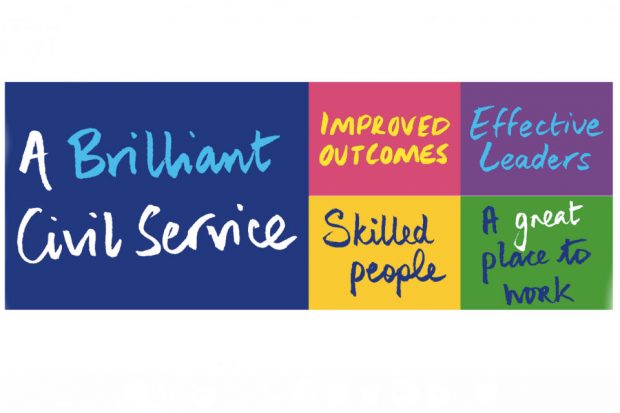 Our vision is to be A Brilliant Civil Service, one that delivers Improved Outcomes for the public, through Effective Leaders and Skilled People, in a Great Place to Work.
As part of the wider Civil Service response to the Covid-19 pandemic, Department for Work and Pensions (DWP) and Her Majesty's Passport Office (HMPO) which is part of the Home Office (HO) came together and applied all four pillars to their ways of working to meet the unprecedented increased demand in Universal Credit (UC) Applications. The co-located DWP/HMPO site in Glasgow presented an ideal opportunity to share skills and knowledge at the pace needed. Around 90 HMPO people have been supporting DWP in the following areas -
Universal Credit (UC) National Telephony team
Universal Credit case management
Local Authority and landlord enquiries
This support has assisted DWP in providing vital support to people needing access to their services during this challenging time.
An innovative team worked together at local and national levels, delivered training to colleagues remotely via Skype and adhering to social distancing rules where necessary. In the first three weeks, HMPO staff answered in excess of 2500 UC calls, replied to 2000 e-mails from Landlords and Local Authorities and this month more have become case managers supporting UC claimants both in the office and on laptops at home around the country as part of a Virtual Service Centre network. Feedback from claimants has been heartening and praise for HMPO and DWP colleagues inspiring.
This is one example of the way the Civil Service has pulled together in a joint working initiative to promote "A Brilliant Civil Service" with teams demonstrating a willingness to learn new skills and a genuine desire to support our citizens. If you would like to hear more on how DWP and HMPO embarked on this task please contact Rozanne Kidd HMPO
If you have any examples of departments working together or being innovative in their approach during these unprecedented times, please remember and nominate for the monthly "A Brilliant Civil Service Awards"
To quote - Alex Chisholm, Civil Service Chief Operating Officer "The Civil Service  response to the coronavirus pandemic has been "amazingly impressive",  and has required "an absolutely extraordinary effort" from the public and private sectors, as well as academia"