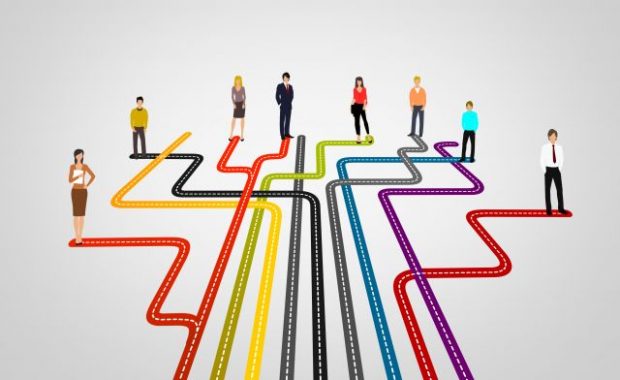 The Citizen Outreach Network for the East, South East and London region has been up and running for 12 months now, in partnership with Civil Service Local, and a lot has changed since the co-chairs first blog introducing the network to you all.
Georgia and Claire are both Civil Service Fast Streamers, and they took up roles as co-Chairs for the Network a year ago, and here they tell their story over this year.
Over the year – what has happened
Georgia, currently based in HM Courts and Tribunals Service, reflects back to the start of the year and Claire, currently working at the Department for Digital, Culture, Media and Sport highlights where the network is now.
Georgia recalls how as a network "we had made really good progress with developing our aims and objectives and growing our membership to include as many departments as possible. Then, of course, COVID-19 shifted our focus and, like most of us, network members needed to prioritise delivering for the public during these unprecedented times. In response, we had a short break from network activities to allow everyone the time needed to adjust to the 'new normal'."
The co-chairs are in a much better space and Claire remembers "how we had to think creatively as a network to redesign our approach to ensure we are delivering outreach safely and inclusively. We see the move to virtual working as an opportunity rather than a setback. Members have launched online initiatives to reach larger audiences, in an effective and engaging way. It's actually really inspiring to see."
Our recent outreach activity
Recently, the Outreach Network identified an opportunity to address a large group of young people as part of a Shaw Trust initiative to engage those not in education, employment or training (NEET) in order to increase their understanding of the Civil Service. Despite the challenges created by COVID-19 restrictions, Georgia and Claire were able to use technology as an innovative way of connecting with young people across the London Boroughs of Harrow and Brent. The session received excellent feedback from the Shaw Trust, and was well-attended by the target group in the local area, demonstrating the continued appetite for outreach activity.
The coronavirus pandemic has meant that the usual format of face-to-face meetings has been impossible. But the Network has responded well to maintain momentum, as Claire explains despite not meeting in person, our meetings have provided our members with an energetic forum to share ideas around virtual delivery. We recently had a session around a new multimedia product being proposed for young people, and we're greatly looking forward to our next session where we're spotlighting virtual work experience and mentoring schemes from two of our government departments.
What's next?
As the network continues to evolve, the Network are seeking to appoint an SCS sponsor to provide strategic direction, give greater visibility at senior level and support with the network's development moving forward. More information about the role of the SCS sponsor is available on request.
The Network is also always looking to strengthen and refresh our membership to include a broader range of individuals with an active interest in outreach, as Georgia explains, wherever you are based in the East, South East and London region, if you are passionate about contributing ideas that will enhance our outreach activities and make a difference to the lives of the citizens that we serve then we would love to hear from you.
This is an exciting time to be involved in outreach, as we continue to learn about how to deliver innovative outreach activities in an impactful way, using our network to share best practice, and develop meaningful interventions.
Why get involved?
Georgia reflects on her experience of working with the Outreach Network:
Co-chairing the Outreach Network has been a really rewarding way of getting involved in the local community. As Civil Servants, it's fantastic to be able to interact with those whom we serve and the Network has provided us with the opportunity to make a tangible difference to local young people by raising their aspirations. It's also been incredibly inspiring to work with other Civil Servants with the same passion for Outreach, and to use the Network to both celebrate their successes and learn from each other.
Claire adds it has also been a great way to learn some new skills. As Co-Chairs, we pulled together a group from across the Civil Service, learning to collaborate in new ways, and get the most out of a range of different ideas to build an end product. So we have not only been able to practice networking, but also project planning and transforming an idea into reality. In the role we have also had to present to large school audiences, which was daunting at first, but in the end I found it really enjoyable, and it's helped to build my confidence.