The team first came together at the Middle Managers' Academy for the Leaders of Today. This is a new pilot offering a developmental programme for managers across government at Higher Executive Officer and Senior Executive Officer level. It's designed to aid managers' development to equip them with the skills they need to lead a truly brilliant Civil Service fit for the 21st century. It provides an opportunity to collaborate  and learn from colleagues in other government departments.
After two intensive residential events, each cross-government team is challenged to deliver a 12-month programme that will drive forward transformation in the Civil Service, in tandem with a government department or agency.
Team Quattro were paired with Civil Service Local and were given the task of helping vulnerable citizens in Manchester. Embodying Civil Service Local's collaborative approach, they formed a partnership with the charity Age UK to learn from their knowledge and experience. The team visited Age UK's day centre in Wythenshawe, one of several the charity runs in Manchester, to talk about how they could work together, and to meet volunteers and the people who use the centre.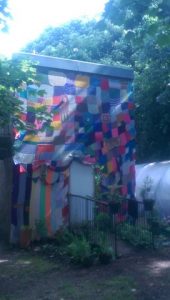 Talking to those who use and run the service helped the members of Team Quattro to understand the issues affecting them, the most important of which is funding. Although events such as sponsored walks, cake sales and quiz nights can raise welcome funds in the short term, it can be difficult to maintain the momentum and keep the money rolling in.
The team decided that the best way they can help is to create sustainable methods of fundraising that will enable Age UK to keep its day centres open and fully-staffed in the long term. Staff run sessions at the centre to keep minds and bodies active, often collecting people and taking them home afterwards, so they also need to finance the charity's vehicles. Beyond securing the charity's current activities, regular funding could also enable Age UK to set up a telephone help line to complement the services it already provides at its day centres.
Team Quattro have also linked up with a company in Manchester called Macc, who support voluntary, community and social enterprise organisations. The company have agreed to compile and maintain a list of volunteers who are willing to take part in Age UK's fund-raising events. If volunteer numbers start to dwindle, Macc will run a campaign to recruit more willing helpers, ensuring there are always enough volunteers available. Civil Service Local will, of course, also be advertising these opportunities to support the organisation amongst civil servants in our region.
One of the ways volunteers will be able to help is by staffing a food kiosk at Manchester City's Etihad Stadium. Charities can receive a percentage of a kiosk's takings if their volunteers run it, whether it's on a match day or at a concert. This could provide the sort of reliable, sustainable funding that could secure the future of Age UK's day centres, meaning that vulnerable citizens in Manchester would still benefit from Civil Service Local long after Team Quattro's project has finished.